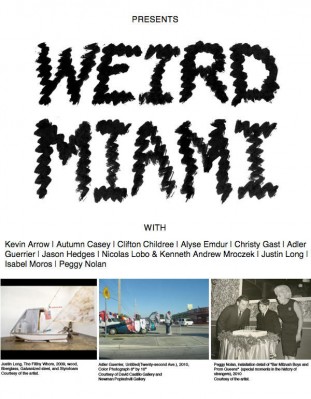 Weird Miami Visitors Center Exhibition
Reception Saturday, July 10, 7 – 11 Pm
July 10 – September 18, 2010
Performance By Jason Hedges Starts 8 Pm
Bas Fisher Invitational
180 NE 39th ST, Suite 210
Miami, FL 33137
www.basfisherinvitational.com
info@basfisherinvitational.com
Weird Miami Artist-Led Bus Tours
July 18, August 15, & September 19
Weird Miami is the chance to ditch our jaded views of Miami and become "tourists in the 'weird' pockets in our own city." – Adler Guerrier
There is a much more interesting — sometimes dark — and never boring side to Miami, one only known to the people who inhabit this town. For any Miamian a typical day's experiences could range from strange to the swampy sublime. Is there any such thing as "Flori-duh?" It is only when one accepts the city in all its glorious weirdness that one can unearth the cracked and quirky gems that lie hidden within.
The artists, both Miamians and non-natives, consider their experiences with people they have come across, through mysterious topographies they have discovered, and objects they have excavated or exhumed, as a way to make sense of or share their unique findings. Exhibition is free and open to the public.
Visitor's Center Artists:
Autumn Casey | Alyse Emdur | Adler Guerrier | Jason Hedges
Nicolas Lobo & Kenneth Andrew Mroczek | Justin Long | Isabel Moros | Peggy Nolan
Weird Miami Artist-Led Bus Tours: Reserve your seat now!
During the 3rd Sundays of July, August and September the BFI will kick-off a series of monthly school-bus tours each led by 2 artists from Miami, taking tour-goers to unexpected locations around the city. Each location is selected by the artist-leaders, and will not be revealed ahead of time in order to keep riders in suspense. "We'll load into the big yellow school bus and be completely at the artists' mercy!" – Agatha Wara, BFI . The artists leading the tours are: Kevin Arrow | Clifton Childree | Christy Gast | Adler Guerrier | PLUS secret special guests!