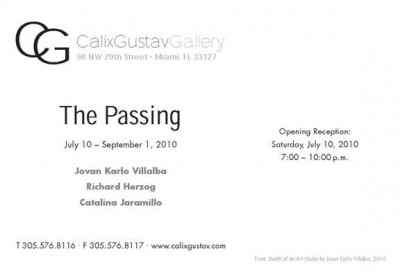 The Passing Exhibition: Saturday, July 10 through September 1, 2010
Opening Exhibition: Saturday, July 10, 7:00 p.m. – 10:00 p.m.
Gallery visiting hours: Tuesday – Saturday, 12:00 p.m. – 5:00 p.m.
Calix Gustav Gallery
Wynwood Arts District
98 NW 29th Street
Miami, FL 33137
CALIX GUSTAV GALLERY DEBUTS NEW EXHIBIT THE PASSING
Wynwood cutting-edge gallery exhibits the fleeting of time, new seasons and new beginnings representing rebirth
Calix Gustav Gallery will debut its newest exhibit The Passing on Saturday, July 10, 2010 from 7:00 to 10:00 p.m. with an opening reception and complimentary cocktails for all guests. The exhibition's reception will take place at the gallery located in the Wynwood Arts District (98 NW 29th Street) and will coincide with the bourgeoning neighborhood's monthly art walk.
Calix Gustav's The Passing exhibits the fleeting of time, new seasons and new beginnings representing rebirth. This resurgence is only accomplished with the understanding of life; its meaning and its hardships. Ecuadorian-born artist, Jovan Karlo Villalba creates cinematic paintings featuring visions of sweeping cataclysmic events. The increasing threat of man-made devastation in forms of biological and nuclear warfare, environmental catastrophe and economic ruin, in conjunction with their magnified portrayal in the media, has created an onslaught of social alarm and has subversively woven feelings of doom into the fabric of present-day life in America.
Colombian-born artist, Catalina Jaramillo creates an installation that deals with issues raised upon both separation from her partner and her mother's death. The installation celebrates the obsessive tendencies that some manifest with their loss and grief, it is an accumulation of the memories and objects left behind at times of loss. In reviving those who we've lost we learn to accept life's realities and thus, learn to move on and accept our destiny. The installation will combine aspects of performance art, video, photography, and sculpture.
Sculptor Richard Herzog examines parts of society and nature trying to bring awareness to these elements hoping to alter the viewer's perceptions and make them look at things differently and consider the world they live in. The sculptures are a combination of a systematic organization of natural forms possessing a chaotic multi-layered visual effect mimicking our world, dominated by its rapid pace and over stimulation.
The Passing will run from July 10 through September 1, 2010. Regular gallery visiting hours are from Tuesday to Saturday from 12 p.m. to 5 p.m. For more information visit www.calixgustav.com.