THIS EVENT HAS BEEN CANCELLED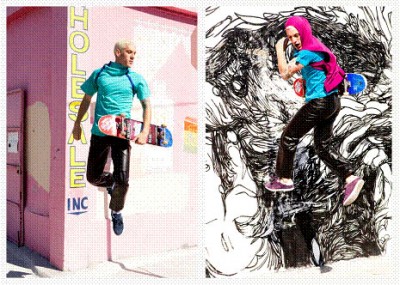 .a different fur HOSTS "GARAGE SALE" SHOPPING EVENT
Modern menswear brand unveils understated yet eclectic capsule collection: STARK 2010
Wednesday, July 14, 2010
7:00 p.m. – 10:00 p.m.
1111 Lincoln Road, 7th Floor
Miami Beach, FL
Must RSVP: adifferentfur@taraink.com or 305.864.3434 x 300
.a different fur debuts STARK 2010 capsule collection at Miami Beach's premier shopping destination
.a different fur, a premier men's clothing line renowned for redefining fashion with an independent expression, is hosting an exclusive shopping event with a designer meet-and-greet, STARK 2010 collection presentation and cocktail reception.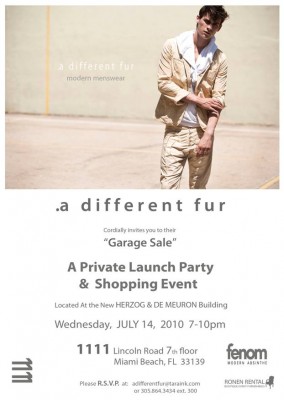 From their signature collection that debuted in 2007, .a different fur introduced the encouragement of individualism through a unique vision of fashion-forward menswear by incorporating ultramodern designs and silhouettes into everyday basics. Today, the Peru-based brand founded by Alex Garcia and Nicole Bolivar, is still a cult following amongst men all over the world.
.a different fur takes a new approach with STARK 2010 and for the first time, the brand introduces a colorless, unembellished collection. The limited-edition collection consists of T-shirts, henleys, vests, blazers, jackets and pants in simple shades of black, grey and charcoal. STARK 2010 is inspired by New York City's surroundings and the dim hues of the buildings, asphalt streets and seasonal weather. The collection will continue to feature avant-garde silhouettes on Peruvian pima cotton basic and highlights from the line include the scarf shirt, 12-button hoody, black and white monochromatic blazers and cargo skinny pants.
The livelihood of the evening's ambiance will be complemented by the stimulating surroundings of Miami's latest gem and the company of South Florida's trendy elite. Guests are invited to enjoy live beats, experience an extraordinary live performance by Miami acoustic performer Jem Marie and a Spring/Summer 2011 fashion installation with live models while indulging in complimentary cocktails provided by fenom Modern Absinthe and a cravings bar stocked with delectable confectionary goods.
Peruse .a different fur's Spring/Summer 2010 and STARK 2010 collections – reflecting their philosophy of producing thought-provoking, forward-thinking menswear – including subtle graphics, tactile materials, well-appointed details and muted color combinations featured in a variety of menswear from asymmetrical-buttoned t-shirts, button-shield raglan hoodies to canvas cargo shorts and skinny pants with price points ranging from $45 to $250.
Since 2007, .a different fur rouses the most inspirational movement of creating individuality through fashion. The brand incorporates simple but tactile materials such as pima, modal cotton, ribbed and thermal fabrics onto avant-garde silhouettes. . a different fur's unique pieces are adored by celebrities including Robert Pattinson, Kellen Lutz and The Frey. The brand has also attracted many of the world's finest retailers, including Fred Segal and specialty boutiques including Base (Miami, FL), Bill Hallman (Atlanta, GA) and Matthew Izzo (Philadelphia, PA). The .a different fur price points range from $45 to $250 and are available for purchase at www.adifferentfur.com. For more information on .a different fur, please visit www.adifferentfur.com.