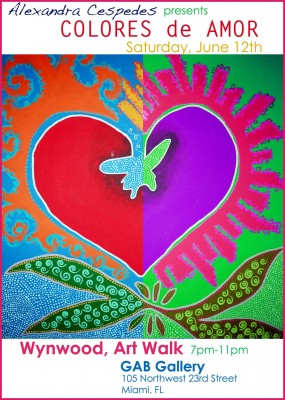 GAB GALLERY 105 Northwest 23rd st Miami, FL
Cespedes Studios Gets Personal!
As many of you know I moved to Miami nine months ago, determined to let out my voice as an artist and be heard. It has been a transformational period for me personally and creatively in which I have grown and found a new voice- one that is vibrant, colorful and true and which expresses my happiness and appreciation for life. Throughout my journey in Miami I have truly become a woman and created a life filled with many adventurous opportunities and my art has blossomed as a result of it.
This Saturday, June 12th, I am proud to announce the premiere of my first Wynwood Art Show "Colores de Amor". This collection was inspired by the love between a man and a woman and all that they created together, but then had to watch fall apart. The ending to this story isn't a sad one and to find out why please join me this Saturday at GAB Gallery from 7-11pm.
Alexandra Cespedes
Painter/Photographer
cespedesstudios@yahoo.com
www.cespedestudios.blogspot.com
"Keep the inspiration alive".