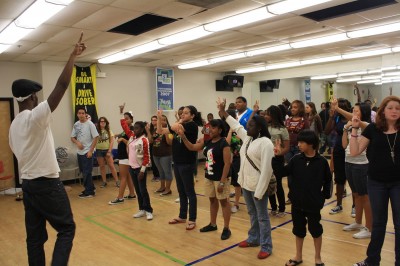 Art Fundraiser To Benefit
Voices United, An All Kids Arts Organization
During Wynwood Artwalk- Saturday, June 12 @ 7:00 p.m. at Oggetti Designs
Voices United, (VU) a non-profit children's organization, devoted to promoting cultural diversity through the performing arts, will host a fundraiser featuring original artwork by students and local artists on Saturday, June 12, 2010.
The Voices United participants, ages 10-22, are a multi-cultural ensemble comprised of actors, singers, dancers, visual artists, writers and musicians who come together to express their thoughts and opinions through a creative forum. The kids spent several weeks creating various paintings to be featured during this event.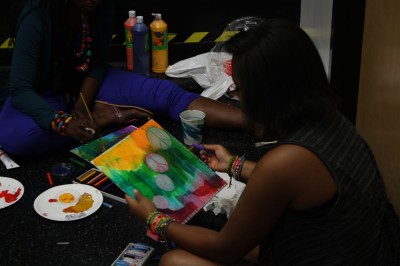 Saturday, June 12, 2010 at 7:00 p.m.-10:00 p.m.
Oggetti Designs, 74 NE 40th Street, Miami Design District,
Tel: 305-573-4626, www.oggettidesigns.com
Admission is free. Art work by VU kids for sale @ $50
Artwork by local artists @ $100. All proceeds to benefit Voices United.
The evening will be a magnificent culmination of art, music, wine and delicious appetizers.
Voices United is a non-profit youth organization that promotes cross-cultural understanding through the arts. For more information on VU, please call, 305-726-4822, email Katie@voicesunited.org or visit www.voicesunited.org
Photos: Alicia Betancourt, 15, Voices United participant working on an art piece for the fundraiser, as VU Alumna, Loni Johnson,30, also paints in the background. Tarell McCraney,29, Voices United Alumnus and award-winning playwright, displays the organization's signature peace sign to the multi-cultural ensemble of students during a rehearsal for their current feature film.