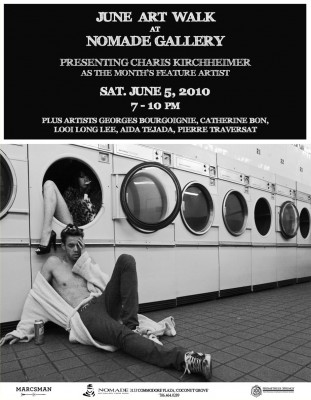 Nomade Gallery's June Agenda
3133 Commodore Plaza, Coconut Grove, FL 33133
Saturday June 5th , 2010 – Wednesday June 30th
2010 ARTISTS: Georges Bourgoignie, Catherine Bon, Charis Kirchheimer, Looi Long Lee, Tamara Sky, Aida Tejada, Pierre Traversat
Nomade Gallery is pleased to announce its June agenda of exhibits and artists, beginning on Saturday June 5th during Coconut Grove's monthly gallery walk. Nomade Gallery is dedicating the month of June to the exploration of photography through both amateur and professional lenses. This month Nomade Gallery has chosen local Miami photographer Charis Kirchheimer as June's Feature Artist. On Saturday June 19th , Nomade will also host an evening for the children of Big Brothers Big Sisters-Miami featuring over 50 photographs taken by the "Littles" themselves.
Charis Kirchheimer will showcase three series: "Zoophilia", a daring black and white photographic collaboration with Tamara Sky that captures an ethereal bunny-being sauntering through a ghostly dimension; "Transience", an engrossing pair of long exposure self-portrait photographs, both of which had their first gallery debut during May's SIREN exhibit with artist Danny Catania; and the premiere debut of "Dirty Laundry", documenting a lucid dream adventure in a 24-hour laundromat on a late winter's night.
Charis is a Miami based photographer who began her photography career in early 2007. Her work was exhibited in two Art Basel showcases in 2009; she has also been featured and shot for Ocean Drive Magazine, The Miami New Times, 944 Magazine, Architectural Digest, Italian blog Camera Obscura and Missbehave Magazine
On Saturday June 19th , the "littles" of the youth mentoring program Big Brothers Big Sisters of Miami will show over 50 photographs displaying their escapades throughout Miami. Ten cameras were donated to the "Little" brothers and sisters for them to use and document unseen facets of the city we all call home. These photographs will be available for purchase as a direct contribution to Big Brothers Big Sisters of Miami.
Nomade Gallery looks forward to following up the success of May's Art Walk, an art affair that prompted the Miami New Times to dub Nomade's May 1st show the "…highlight of [Coconut Grove's] art walk…". Nomade Gallery is Coconut Grove's newest gallery on the block which was opened by esteemed French art enthusiast Brigitte Serfaty this past February. The first Saturday evening of every month, Coconut Grove's galleries and shoppes put on a parade of local art, music and food open to the public.
For more information on Nomade and the artists, please visit their websites: Nomade Gallery; Charis Kirchheimer; Big Brothers Big Sisters.