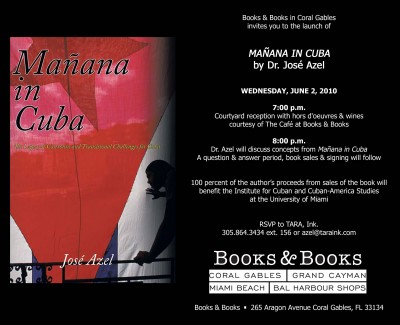 LOCAL AUTHOR DR. JOSÉ AZEL TO HOST LAUNCH EVENT
FOR HIS NEW BOOK MAÑANA IN CUBA AT BOOKS & BOOKS IN CORAL GABLES
Mañana in Cuba Book Launch Event
Wednesday, June 2, 2010
Courtyard Reception: 7:00 p.m.
Dr. Azel's presentation of Mañana in Cuba: 8:00 p.m.
Books & Books
265 Aragon Ave.
Coral Gables, FL 33134
Buy Mañana In Cuba: The Legacy of Castroism and Transitional Challenges for Cuba at Amazon
Title explores Cuban mindset and its relevancy for the nation's future, providing creative solutions for a successful transition to democracy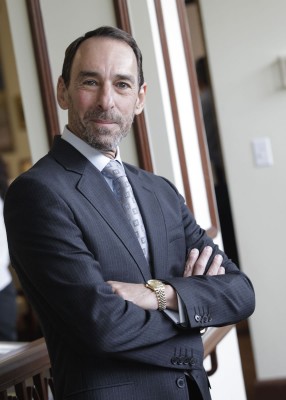 Miami-based author, scholar and businessman Dr. José Azel will host a launch event for his new book Mañana in Cuba at Books & Books in Coral Gables on Wednesday, June 2, 2010. In this title, Dr. Azel offers a comprehensive analysis of contemporary Cuba with an incisive perspective of the Cuban mindset and its implications for Cuba's future. Mañana in Cuba's release is particularly timely given the topical nature of Cuba and U.S. relations today.
While the official event begins at 8:00 p.m., guests are invited to attend a pre-reception celebration at 7:00 p.m. in the bookstore's Mediterranean-style courtyard, with small plates and wines courtesy of The Café at Books & Books. Immediately following the outdoor soirée, Dr. Azel will discuss concepts from Mañana in Cuba. A question and answer period will follow, during which time Dr. Azel will autograph copies of his book.
Divided into two parts, Mañana in Cuba begins with the exploration of the mindset Cubans have developed living under a totalitarian system. Here, Dr. Azel explores the historic, political and economic obstacles present in modern-day Cuba and introduces the framework he believes will most effectively facilitate a democratic civil society. Part two of Mañana in Cuba discusses practical policies to work with the current disposition of the Cuban nation and lead it to a prosperous future, while maintaining the society's culture and history.
According to Dr. Azel, "A unique aspect of this book lies in the fact that it does not seek to unnaturally mend a decimated civil society, but rather, it offers policy approaches anchored on current Cuban ethos and society." Mañana in Cuba focuses on the means that will facilitate the Cuban transition from totalitarianism and a centrally planned economy to liberal democracy and a free-market economic system. Ultimately, Dr. Azel asserts that the alternative visions presented for Cuba's future should be met with immense consideration as one of them will inevitably crystallize into the sociopolitical and economic narrative of the country for generations to come.
Notably, 100 percent of the author proceeds from sales of Mañana in Cuba will benefit the Institute for Cuban and Cuban-America Studies at the University of Miami, where Dr. Azel is a Senior Scholar. For more information on Mañana in Cuba and its author, please visit the book's publisher, Author House.