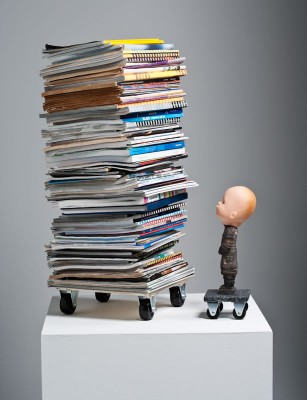 Alternate Realities
Thru June 12, 11 AM – 5 PM daily. Weekends by appointment 305.895.2956
12345 West Dixie Studio and Gallery
12345 West Dixie Hwy
North Miami, Florida 33161
http://www.dixieimageworks.com/now-showing.html
A group show featuring personal work from prominent graphic designers who call South Florida home. In their roles as designers, these three artists, create on behalf of clients. As fine artists, on the other hand, they are beholden to no one but themselves.
Randy Burman
Steve Radzi
Tom Weinkle
It is said that for every decision made alternate realities are played out in countless other dimensions resulting in myriad variations of human providence. As many of the works in this exhibition point out, regardless of how long we have been learning, looking, and living, the railroad switch of our choice can appear without warning, diverging and diverting our paths. Sometimes, however, when individuals demonstrate multiple preferences, eventualities run parallel, neither dominant nor subordinate, but complementary. The exhibition Alternate Realities brings together three artists who share such a dichotomy.
As graphic designers they create on behalf of clients, often under duress. In their studios, however, free from the shackles of a lackluster, work-a-day week, Burman, Radzi and Weinkle employ vocational skills honed in the commercial world to less pressing, ultimately more rewarding ends.
For these creative professionals, basking at the impasse of fiscal necessity and artistic drive, the duality of their lives are the very means by which they live. Nevertheless, despite patent advantages that come from looking from the inside out, potential is something left to the individual to realize, regardless of standing and in spite of liberty.