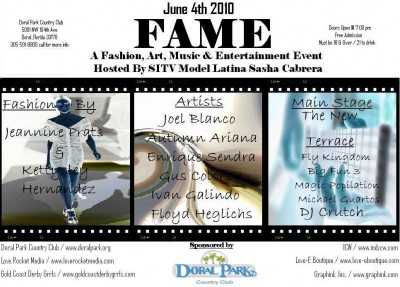 FAME Event
June 4th, 2010, 7 pm – Midnight
Doral Park Country Club
5001 NW 104th Avenue
Doral, FL 33178
www.doralpark.org
Miami's Backyard Talent
A fashion, art, music, and entertainment event.
On Friday, June 4, 2010, Doral will serve as a stage to local fashion designers, artists, musicians, and entertainers, at Doral Park Country Club, 5001 NW 104 Ave, in Doral. Program will begin at 07:00 pm, no admission fees (18 and over).
This event will center stage Miami's own undiscovered talent. Blending Fashion, Art, Music, and Entertainment as the recipe to this event named FAME.
Upcoming fashion designers duo Jeannine Prats & Kettysley Hernandez will be modeling their line TroubleTimes2. Musical performances by The New, Fly Kingdom, Big Fun 3, Magic Population, Morning War and Michael Guartos to name a few. Art work ranging from abstract, photograph to life size sculpture, Joel Blanco, Ivan Galindo, Miguel Franco, Floyd Heglichs, Enrique Sendra, and Autumn Ariana. Local independent entertainment companies such as Gold Coast Derby Girl and ICW Independent Championship Wrestling will have booths displayed, along with a few other vendors like forthcoming LOVE-E Boutique Jennifer Gonzalez. Event will be hosted by model/actress Sasha Cabrera from SITV Model Latina.
18 and over
Specials on drinks and beer