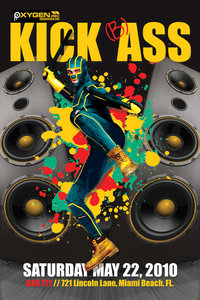 Kick (B) Ass
Saturday May 22, 2010, 10pm – 5 am
Bar 721
721 N Lincoln Lane
Miami Beach, FL 33139
Oxygen Prod presents "KICK (b)ASS" with the best Electro/House // Sexy & Dirty!
"We can't see through walls, but we can Kick your (b)ass!"
ERAN HERSH & DJ DARMON
DJ brothers Eran Hersh and Tzachi Darmon (DJ Darmon) began launching their music passion at an early age in their native country Israel, playing at exclusive clubs such as 'TLV' & 'Zoom' (Tel-Aviv). In 2001, they moved to New York City. Spinning at private parties gained them exposure, which launched the beginning of their international DJ career. 2003 brought them a bigger move to Miami where they've been rocking the local dance music scene, and gaining residencies at some of the most well-known and respected dance music venues, alongside sharing the decks with some of the world's most famous DJ's. and with smash hits on Beatport such as "Girls Who like Girls," , "Good Morning Miami", "Falling Apart", "Hangover", "Silver Bay" and "Esther" has taken them to the next level by playing everywhere in the U.S. today.
DJ ELLE
DJ Elle is a sound siren; dropping sexy genius beats on unsuspecting crowds that keep moving from dusk to dawn. Elle has performed extensively in NYC and Miami where she's had the chance to open for such notables as DJ Premier, Stretch Armstrong and Just Blaze. Elle has rocked events for fashion, music and celebrity clients including Nike, Vans, Jive Records, Howard Stern, NARS Cosmetics, Baby Phat, LRG, Complex Magazine & Married to the Mob to name a few. Nominated in the "Best Female Mixtape DJ" category at award shows, her podcast is highly rated with over 25,000 subscribers. In the past month she spun the Spring 2010 House of Jackie Brown Collection Show in NYC and was chosen to be the headlining DJ at the Grand Reopening of Miami's original club B.E.D. DJ Elle is a respected figure in both NYC and MIA party circuits www.myspace.com/DJELLE and www.djellenyc.podomatic.com
MIKE MIRO
Mike Miro is a medicine used to treat dance dysfunction (DD). Remember that no medicine is for everyone. Only your doctor or dealer can prescribe Mike Miro for you. If you consider your ideal "house music" as being predictable and safe, or "buttoned up," don't take Mike Miro. This combination could cause your blood pressure to rise to an unsafe or life-threatening level.
The most common side effects of Mike Miro are nasty dirty sexy basslines and the chills. Less commonly blurred vision or sensitivity to light may briefly occur.
DENVER B
Denver B. started listening to house & trance for the love of the fresh European sounds. He has spun all forms of Electronic Dance Music for 10 years. Over the past five years he has spun all over south & central Fl! Soon After he started Future Sound productions, his dj set consist of house mixed with the influences of trance, minimal & progressive.
In early 2010 Denver B. started collecting house music videos & mixing in this format.
Seeing the music videos brings a new Level of challenge to every set ! This New frontier of entertainment is well on its way to becoming the new standard for a new decade!
RICO from Paris
Rico is the owner of Oxygen records, a label founded in 2001; he is also a Promoter, a Label Manager, a DJ, a Producer, and a Sexy Frenchman!
He was a resident at famous Rex Club in Paris, the same club where Daft Punk, David Guetta, and Josh Wink used to play.
Rico has been playing in clubs: The U.K., Spain, Germany, Holland, China, with famous vinyl junkies such as Pendulum, Stanton Warriors, DJ Plus One, The Freestylers, Mc Jamalski…
He played at the Techno Parade in Paris before + 10.000 people, and other massive raves around the world…
ARAMIS VEGA
NYC born, Florida raised, touched his first turntable when he was 15, has been playing in clubs since he was 19. Aramis plays all kind of music, Pumppn House All night long!!! Techy, minimal, Electro Ghetto Tech, Baltimore Clubish, Cluby Hip Hop, Free Style, Bass, Mash ups, Old Skool, Some Rock, 80's…what ever it takes to get in Poppn! Vega loves making people move !
Visuals by Denver B!
From 10PM to 5am, NO COVER!!!
HOSTED BY LAUREEN BIRUK
PLUS, win one week of tanning and other exciting prizes from Boca Tanning Club and MORE
DANCERS and DRINK SPECIALS:
Get $3.00 beers when you say "KICK (b)ASS" at the Bar!!!
Get $3.00 beers when you say "KICK (b)ASS" at the Bar!!!
Get $3.00 beers when you say "KICK (b)ASS" at the Bar!!!
Bar 721, 721 Lincoln Lane Miami Beach, FL.
where the old Laundry bar used to be.
Located right behind Macy's
For More infos
Ricoxl@hotmail.com
(772) 224-1109