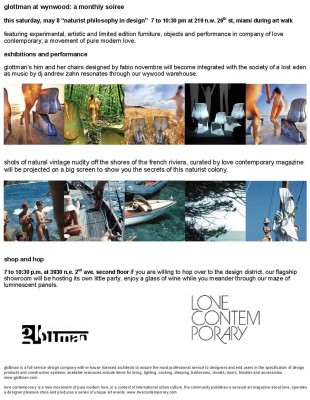 naturist philosophy in design
saturday, may 8, 7 to 10:30 p.m
glottman warehouse 219 n.w. 26th st.
219 n.w. 26th st., Miami
www.glottman.com
glottman features experimental, artistic and limited edition furniture, objects and performance
in company of love contemporary; a movement of pure modern love.
exhibition "naturist philosophy in design"
glottman's him and her chairs designed by fabio novembre will become integrated with the society of a lost eden as music by dj andrew zahn resonates through our wynwood warehouse.
shots of natural vintage nudity off the shores of the french riviera, curated by love contemporary magazine will be projected on a big screen to show you the secrets of this naturist colony