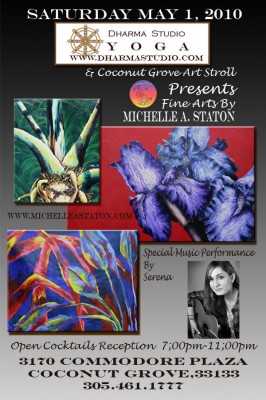 Dharma Studio Present Art Exhibit By Michelle Staton
May 1st, 7:00pm-11:00pm
Dharma Studio
3170 Commodore Plaza
Coconut Grove Fl, 33133
305.461.1777
www.dharmastudio.com
Art Exhibition and Open Cocktail Reception
Saturday, May 1st: 7-11p, FREE
Join Dharma Studio in conjunction with the Coconut Grove Art Stroll as we transform into an art gallery for the evening . We will be exhibiting the work of Michelle A. Staton and there will be beautiful live music performed by Serena. Michelle A. Staton is a multi media artist currently living and working in Cape Canaveral, Florida. Her large scale, expressionistic painting style plays with color in unique and interesting ways. Color seems to flow intuitively from her paint brush as she mixes and interprets her expansive color schemes.
After attending Douglas Anderson School of the Arts and receiving admission to both Harvard and Ringling School of Art and Design to study fine art, Michelle decided to pursue a career in business to explore the left side of her brain. Once she completed her bachelor's degree in accounting at the University of South Florida in Tampa and spent five years as an accountant, she realized the creative arts are what she is meant to pursue and moved to Cape Canaveral to find her path.
Michelle is currently working on a series of large scale flowers set against provoking colors. Her style utilizes glazing and finger painting to develop and emphasize depth in the flower petals. She is exploring how the glazing and layers will affect light on a subject. She also founded Scarlet Art Studios, which will explore custom, UV reactive and couture clothing as well as offer other crafty interpretations of everyday items.
The Dharma Studio in Coconut Grove, FL will be hosting over sixteen pieces of Michelle's work during the May 1st Art Stroll. She also has work permanently displayed in the Florida State Capitol Building as well as in numerous private collections
Be part of Coconut Grove's thriving art community on the first Saturday night of every month — many art galleries in the Grove will open their doors, and offer live music, food and wine. For
RSVP Call 305.461.1777
3170 Commodore Plaza
Coconut Grove Fl, 33133
305.461.1777