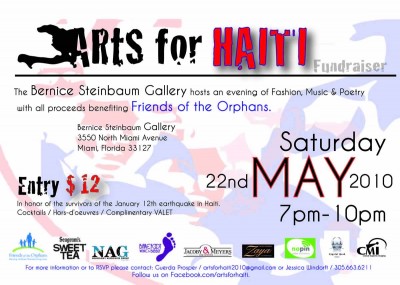 Arts for Haiti
May 22, 2010, 7-10pm
The Bernice Steinbaum Gallery
3550 N. Miami Avenue
Miami, FL 33127
facebook.com/artsforhaiti
THE BERNICE STEINBAUM GALLERY TO HOST AN EVENING OF FASHION, MUSIC & POETRY FUNDRAISING EVENT BENEFITING HAITI
100% of the proceeds from this unique event will be used to support Friends of the Orphans, a non-for-profit organization that provides financial support to Nos Petits Freres et Soeurs (NPFS, French for "Our Little Brothers and Sisters") in Haiti
What: The media and the general public are invited to "Arts for Haiti" an evening of fashion, music, and poetry to benefit Friends of the Orphans, a non-profit organization that supports orphaned, abandoned and disadvantaged children in Haiti and around the world.
When: Saturday, May 22, 2010
7:00 p.m. – 10:00 p.m.
Where: Bernice Steinbaum Gallery
3550 North Miami Avenue
Miami, FL 33127
Cost: $12.00 minimum donation in celebration of the survivors of the January 12th earthquake in Haiti (All additional amounts are welcomed)
Who: The event will headline a fashion show featuring young designers, Jacinta Ligon www.jacintaligon.com, Viviane Valerius, Britney Samuels for Obe Santos www.obesantos.com, Yasser Faraco www.yasser-faraco.com, Waina Chancy, Funky Sexy Couture by Joey Rolon www.funkysexycouture.com, and Robinson Elie www.latentunlimited.com; makeup by Zoule Makeup, Haitian poetry recitals; live musical acts by well known Haitian artists such as T-Mich Fil Louime and many more.
Cocktails and hors d'oeuvres are sponsored by Delices de France Bakery, Lime Fresh Mexican Grill, Crystal Head Vodka, Seagram Sweet Tea, Barefoot Wine & Bubbly and Zaya Rum. The silent auction will feature some of the designs from the fashion show and an exciting raffle highlighting some must have items. Complimentary valet will be available.
Corporate event sponsors include, Neurology Associates Group, No Pin, Jacoby & Meyers PLLC, Christina's Party Rental and Central Magnetic Imaging.
100% of the proceeds from this unique event will support Friends of the Orphans. Follow us on Facebook.com/artsforhaiti.