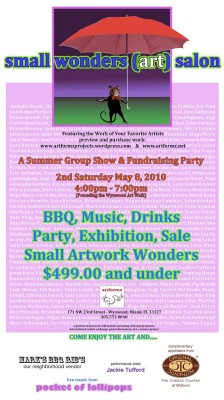 YOU ARE INVITED
Artformz has the pleasure of announcing the opening of "small wonders (art) salon"
On May 8th the gallery will turn its exhibition halls into one of the most energized and exciting exihibits this spring. Sixty-five of South Florida's best local artists will be exhibiting affordable small jewels of artwork. The works will fill the wall space and the gallery will be converted into a cornucopian installation of diverse expressions. Small Wonders promises to be a sensory overload of visual offerings that will delight the public and document the pulse of current artistic practice in our community.
The exhibit will highlight artists from around South Florida who will be showing works in a multitude of media, including painting, drawing, collage, sculpture, ceramics, and printmaking. Many artists will be exhibiting works that are their latest explorations. Small Wonders aims to raise everyone's respect for these thoughtful – coveted – irreverent – spontaneous – small works, and to showcase these works that are an important part of every artists practice as they experiment and explore ideas not connected to producing work for any specific market trend, nor for institutions or galleries.
Small Wonders has been curated by the member artists at Artformz. Each member artist invited a group of respected peers. Small Wonders is an experimental event, placing a finger on the pulse of what is happening now and showcasing it. This art belongs to "now": small, but quick and directly to the point.
Artformz strongly encourages the sale of these very affordable works of art. The goal is to raise funds for South Florida artists and to support the Artformz yearly community projects including the upcoming International Artists Exchange. "ArtistaInvitaArtista" co-curated by Alette Simmons-Jimenez, artist and director of Artformz (Miami, USA) and Cristina Ghetti, artist and director of Red Nomade (Valencia, Spain). Artformz' member artists as well as a delegation from Italy, will be hosted in Valencia by Red Nomade, Miguel Gago Albert, Cultural Council of the city of Godella, and La Casa de la Cultura de Burjassot in October of 2010. The scheduled art exhibit in Spain will be accompanied by panel discussions, artist's talks, and introductions to local organizations and curators to broaden opportunities between participants. Artformz will in turn host the artist group from Spain, headed by Cristina Ghetti, and present an exhibit of their artwork at Artformz in early 2011. This event will coincide with similar cultural activities introducing these exceptionally talented artists to the Miami art scene.
Artformz Exhibiting Artists Host Committee:
Natasha Duwin, Henning Haupt, Donna Haynes, Sibel Kocabasi, Anja Marais, PJ Mills, Ray Paul, Guillermo Portieles, Alette Simmons-Jimenez
Exhibiting Guest Artists:
Harumi Abe, Gustavo Acosta, Eric Anfinson, Rosario Bond, Duane Brandt, Pip Brandt, Leah Brown,
Bill Burke, Guido Coletti, Stephanie Cunningham, Angi Curreri, Roalndo Dal Pezzo, Rai Escale, Shady Eshghi, Christian Feneck, Priscilla Ferguson, Luis Garcia Nerey, Paul Glass, John Gurbacs, Bryan Hiveley, Judy King, Jacek Kolasinski, Greg Latch, Leila Leder Kremer, Jules Lusson, John Martini, Lauren McAloon, Luisa Mesa, Venessa Monokian, Hugo Moro, Carol Munder, Sam Perry, Ron Pieniak, Brian Reedy, Barbara Rivera, David Rohn, Gustavo Román, Sara Rytteke, Beatricia Sagar, Edgar Sanchez Cumbas, John Sandell, Claudia Scalise, Gretchen Scharnagl, Shari Schemmel, Carolyn Schlam, Nina Surel, Peter Symons, Chu Teppa, Paloma Teppa, Kristin Thiele, Jackie Tufford, Jovan Karlo Villalba, Daniel Viñoly, Tom Virgin, Ramon Williams
Please visit small wonders where a preview of work that will be on exhibit at the gallery can be seen and purchased online.