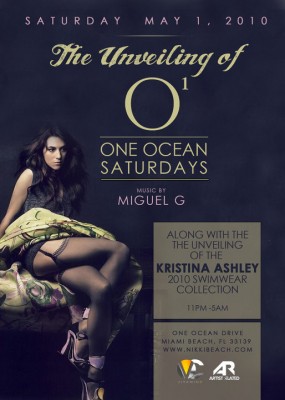 The Unveiling Of O1 Saturdays Along With The Kristina Ashley Swimwear Collection
Saturday May 1st, 2010, 11pm
Club O1 at Nikki
Formerly Pearl
One Ocean Drive
Miami Beach, FL
The Unveiling of O1 Saturdays has arrived !
Don't miss out on the most anticipated Club Opening of 2010
Join local designer Kristina Ashley as she launches her 2010 Swimwear collection .
The show will take place as the clock strikes midnight at Nikki Beach's latest makeover venture, CLUB O1.
Music By DJ Miguel G
For more information or to RSVP please call 305.375.0179 or e-mail rsvp@vitaminccomm.com.
Miami Nightlife