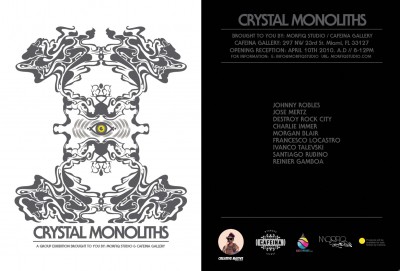 Come check out the inaugural group exhibition curated by new creative//design suite Morfiq Studios. The exhibition will be hosted by Cafeina Gallery, located in Wynwood//Design District. Cafeina Gallery is Miami's most exciting new gallery location, with full service bar and lounge area on premise. The exhibit will showcase selected works of respected artists from a number of major cities, including New York, Philadelphia, and some of Miami's most exciting local talent. Details below:
Crystal: Completely Transparent & Unclouded
Monolith: A geological feature (such as a mountain) consisting of a single massive stone or rock. A singular piece of rock placed as, or within, a monument. (in this case, the artist)
The crystal monolith is a metaphor for the artist. Each individual in this show, demonstrates a crystalline dedication towards monumental intent in the visual expression they deliver.
Artists Showcased:
Johnny Robles
Jose Mertz
Destroy Rock City
Charlie Immer
Morgan Blair
Francesco Locastro
Ivanco Talevski
Santiago Rubino
Reinier Gamboa
Opening Night: April 10th 2010 // 8-12am
Cafeina Gallery // 297 NW 23rd St. Miami, FL 33127
For more info: info@morfiqstudio.com
Website: www.morfiqstudio.com