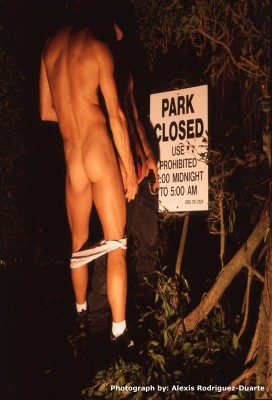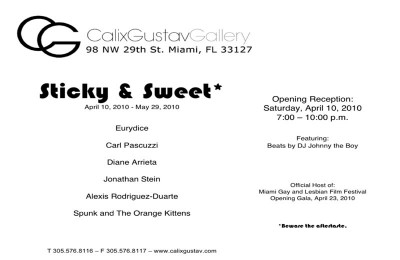 CALIX GUSTAV GALLERY DEBUTS NEW EXHIBIT "STICKY & SWEET"
Cutting-edge gallery once again pushes the envelope with sexually charged show
WHAT/WHO: Calix Gustav Gallery will debut its newest exhibit "Sticky & Sweet" on Saturday, April 10, 2010 from 7:00 to 10:00 p.m. coinciding with Wynwood's monthly art walk. The unveiling of the exhibit, which explicitly explores sexual freedom, expression and all related taboos – a-la-Madonna – will be celebrated with an opening reception featuring beats by DJ Johnny the Boy and complimentary cocktails.
In a society where sexual liberation often has a tongue-in-cheek political innuendo, "Sticky & Sweet" examines sexuality as a means for personal identity through both self-expression and social labeling. Featured artists Eurydice, Carl Pascuzzi, Diane Arrieta, Jonathan Stein, Alexis Rodriguez-Duarte and Spunk and The Orange Kittens use their craft to shed light on sexuality as it relates to human nature – key elements being ambiguity, eroticism as well as overt and graphic references.
"Sticky & Sweet" will run from April 10, 2010 through May 29, 2010. Regular gallery visiting hours are from Tuesday to Saturday from 12:00 p.m. to 5:00 p.m.
For more information on Calix Gustav Gallery, please visit www.calixgustav.com.
WHEN: "Sticky & Sweet" Exhibition: Saturday, April 10 – May 29, 2010
Gallery visiting hours: Tuesday – Saturday, 12:00 p.m. – 5:00 p.m.
WHERE: Calix Gustav Gallery
Wynwood Arts District
98 NW 29th Street
Miami, FL 33137