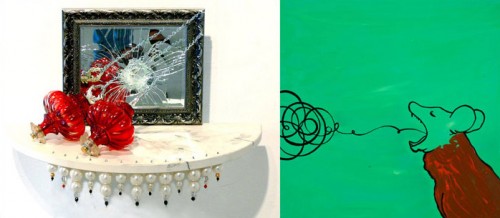 March 13th, 2010
2nd Saturday in Wynwood
left: "Greed" Alete Simmons-Jimenez – right: "Your Neighbor" Sibel Kocabasi
Opening Reception 7-10pm
"A Terrible Beauty"
13 March – April 5, 2010
Presenting the work of
Alette Simmons-Jimenez and Sibel Kocabasi
Often working on parallel themes and approaching ideas from a common viewpoint, the artists present new works with an uncommon synergy in video, painting and construction. Inspired by the vocabulary of contemporary culture, the works address the identity of humanity often using animals as metaphors.
Kocabasi, originally from Istanbul, received an MFA from Florida Atlantic University. She has been exhibiting her work nationally and internationally, and curated the acclaimed show "Undertow" featuring 29 South Florida artists in Istanbul. She currently teaches at Palm Beach Community College.
Alette Simmons-Jimenez, born in Wisconsin, received a BFA from Newcomb College in New Orleans. She has been awarded numerous grants and fellowships for her projects in multiple media. Her work has been exhibited internationally and is held in several museums and private collections.
More on each artist:
www.alettesimmonsjimenez.com
www.sibelkocabasi.com
Artformz
171 NW 23rd Street
Miami, FL 33127
& artformz outzide
BACK BY POPULAR DEMAND
The Oscar Fuentes Combo A Latin Jazz/Flamenco fusion band with Afro-Mayan Beat Poetry