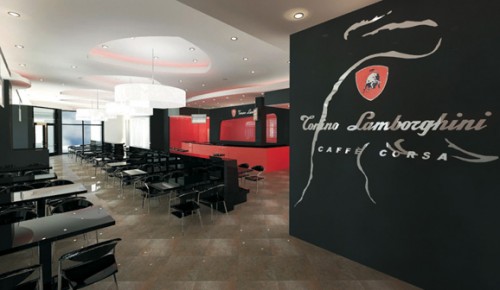 TONINO LAMBORGHINI CAFFÉ CORSA OPENS ITS FIRST US LOCATION
Tonino Lamborghini, whose father introduced the world to the ultra-sleek Lamborghini sports car, has parlayed his generational sense of style and decadence into Tonino Lamborghini's Caffé Corsa, at the new Village at Gulfstream Park in Hallendale, FL. An upscale Italian eatery, with all the style you expect from the Lamborghini name, Tonino Lamborghini is the newest locale for light bites, cocktails or a full dining experience, set within South Florida's hottest outdoor entertainment destination for shopping, dining and nightlife.
Under the direction of Italian-born Executive Chef Paolo Del Papa, the restaurant presents homemade pastas, assorted meats and cheeses, fresh salads, handcrafted Neapolitan pizzas and traditional Italian desserts. Signature dishes include the Penne Alla Bolognese Lamborghini Style, Branzino Al Forno with lemon artichokes and asparagus, and La Milanese, veal with arugula, tomato and lemon dressing. An extensive wine list curated by master sommelier Massimiliano D'Agostino offers a taste of the varied regions of Italy and the Tonino Lamborghini brand while cocktail creations include the Lambor-Mosa with Maker's Mark, orange juice, maple syrup and Prosecco, and the Café Chocolate Tini, Grey Goose, white and dark chocolate liquors and espresso.
The restaurant is distinguished by a clean, modern Italian design that incorporates elements of Tonino Lamborghini's rich history of panache and elegance. The bold black, red, white and silver color palate is drawn from the famed charging bull logo whose shield silhouette is also reflected in the ceiling design. Luminous wall-sized photos showing historical Lamborghini family pictures are mixed with modern art work, subtly linking the past and present. The retro vibe is further enhanced by blending modern finishings, sleek leather banquettes and onyx tabletops with rough, textured flooring that evokes the Italian tradition of hand craftsmanship.
Hours: Open for brunch, lunch and dinner. Mon–Wed 11:30am-11pm | Thur-Fri 11:30am-midnight | Sat 10:30-midnight | Sun 10:30am-10pm
Tonino Lamborghini Caffé Corsa is located in The Village of Gulfstream Park at 501 South Federal Highway, Hallendale Beach, FL 33009 | 305.456.4500 | www.toninolamborghini-caffecorsamiami.com