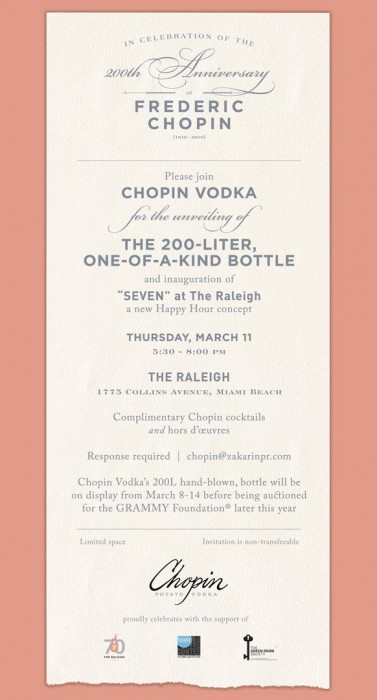 In Celebration of the 200th Anniversary of FREDERIC CHOPIN (1810-2010)
Please join CHOPIN VODKA For the unveiling of
The 200-LITER, ONE-OF-A-KIND BOTTLE
and inauguration of "SEVEN" at The Raleigh a new Happy Hour concept
Thursday, MARCH 11, 5:30 – 8:00 PM
THE RALEIGH
1775 COLLINS AVENUE, MIAMI BEACH
Complimentary Chopin cocktails and hors d'oeuvres
Response required | chopin@zakarinpr.com
Chopin Vodka's 200L hand-blown, bottle will be on display from March 8-14 before being auctioned for the GRAMMY Foundation® later this year.
To celebrate the 200th anniversary of Frederic Chopin's birth, Chopin Vodka created a hand-blown, seven-foot tall, 200-liter bottle. This is the largest bottle of vodka ever produced and is an exact replica of Chopin Vodka's signature bottle.
The 200-liter bottle has kicked off its national tour and one of its first stops is The Raleigh Hotel in South Beach, March 8 – 11, 2010. There will be a series of intimate events with local professional and cultural organizations, leading up to the anniversary event on Thursday, March 11.
The series of events launches "Seven" at The Raleigh, a spirited new happy hour in the hotel's famed Martini Bar with martinis, light bites and valet each priced at $7, seven days a week, from 5 – 8 pm.
The Chopin Vodka 200-liter bottle features autographs by several luminaries from the film world who attended the Santa Barbara International Film Festival – where the bottle debuted on the red carpet – including Oscar winners Sandra Bullock, Kathryn Bigelow and Jeff Bridges, as well as Forest Whitaker, James Cameron, Emily Blunt, Kirk Douglas, Quentin Tarantino, Carey Mulligan, Saoirse Ronan, Michael Stuhlbarg, Julianne Moore, Gabourey Sidibe, Maggie Gyllenhaal, Vera Farmiga and Colin Firth.
Inspired by its namesake, Chopin Vodka will auction the bottle later this year to benefit the GRAMMY Foundation® and its important work in music preservation and archiving, guaranteeing a minimum donation of $50,000.
"Chopin Vodka has always been a serious sponsor of the arts. This new partnership with the GRAMMY Foundation is another example of how committed we are to supporting initiatives that align with our brand," states Guillaume Grillon, brand manager of Chopin Vodka.
"Protecting our cultural legacy is central to the GRAMMY Foundation's mission," says Kristen Madsen, senior vice president of the GRAMMY Foundation. "That work includes preserving endangered recordings of composers as iconic as Chopin to lesser known but equally influential artists, and we are grateful for the generous support of Chopin Vodka to our ongoing programs." About Chopin Vodka Chopin Vodka embodies purity, independence, authenticity and distinction, qualities which clearly inspired the striking bottle design and which are reinforced by the brand's uniquely creamy, full-bodied flavor from naturally grown potatoes. 2010 is the third consecutive year of Chopin Vodka's partnership with the Santa Barbara International Film Festival. It is also the 200th anniversary of Frederic Chopin's birth, and to celebrate, the brand debuted on the red carpet, a 200-liter bottle – the largest bottle of vodka ever produced. For recipes and more information about Chopin Vodka, please visit www.facebook.com/ChopinVodka and follow our Twitter feed at http://twitter.com/ChopinVodka.
About The GRAMMY Foundation® The GRAMMY Foundation® was established in 1989 to cultivate the understanding, appreciation and advancement of the contribution of recorded music to American culture — from the artistic and technical legends of the past to the still unimagined musical breakthroughs of future generations of music professionals. The Foundation accomplishes this mission through programs and activities that engage the music industry and cultural community as well as the general public. The Foundation works in partnership year-round with its founder, The Recording Academy®, to bring national attention to important issues such as the value and impact of music and arts education and the urgency of preserving our rich cultural heritage. For more information, please visit www.grammyfoundation.com.