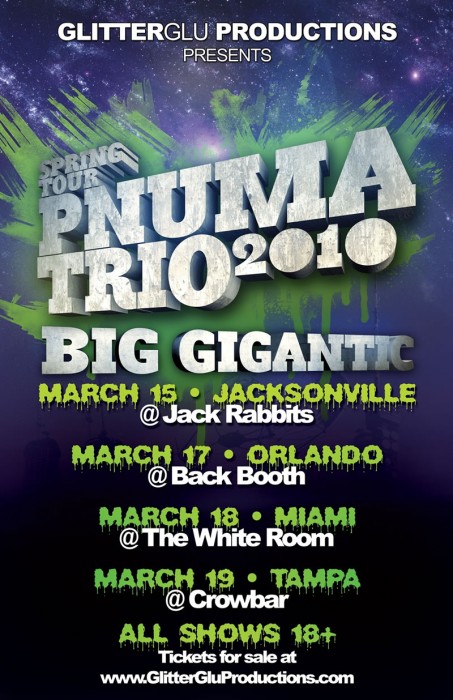 Livetronic masterminds Pnuma Trio and Big Gigantic are coming to Florida for a five-night run that includes a Thursday, March 18 date at The White Room. Their unique brand of live, improvised electronica is a great way to lead into WMC.
Colorado heavyweights Pnuma Trio and Big Gigantic bring their unique brands of livetronica to Florida for a five-show run March 15-20. Pnuma Trio will showcase their powerful improvisation that propelled them onto the scene along with their evolved soundscapes, creating a spacious atmosphere for dance-inducing beats. Opening act Big Gigantic combines DJ elements with a live band setup and dynamic sax solos, introducing hard-hitting dance beats and booming bass lines with unforgettable melodies. Together Pnuma Trio and Big Gigantic offer two explosive sets of musical exploration routed in the lush electro/jam style.
Monday, March 15: Jack Rabbits, Jacksonville (Doors at 8PM; $10 adv/$15 DOS)
Wednesday, March 17: Black Booth, Orlando (Doors at 8PM; $10 adv/$15 DOS)
Thursday, March 18: The White Room, 1306 North Miami Avenue, Miami, FL, 33136 | 305.995.5050 (Doors at 9PM; $10 adv/$15 DOS)
Friday, March 19: Crowbar, Tampa (Doors at 9PM; $10 adv/$15 DOS)
Saturday, March 20: Engine Room, Tallahassee (Doors at 9PM; $10 adv/$15 DOS)
All shows are 18+ and tickets are available at http://www.glittergluproductions.com/.
About Pnuma Trio
Dynamic, scene-setting electronica youngsters, Pnuma Trio, have been known for their forward-thinking compositions and moving, powerful improvisations since their explosion onto the scene in 2004. Ben Hazelgrove, Alex Botwin, and Lane Shaw released their debut studio album, Character, on STS9's label, 1320 Records. A refined, glitch-informed electro/hip-hop feel with all the dynamic energy of their DJ-killing live show, the new album represents a significantly evolved version of Pnuma's futuristic sound: tighter, more focused, and higher resolution. The long synth solos have been replaced by careful layering. Instead of building each song to it's climax, the band percolates on hot remixed urban ideas, letting the production create the spacious atmosphere. Visit www.pnumatrio.com for more info!
About Big Gigantic
Boulder's Big Gigantic has been killing the live-electronic music scene as of late. Moving from small club gigs around Colorado to playing shows with STS9, Bassnectar, and Pnuma Trio while hitting summer festivals throughout the country. The two-man sound-machine of Big Gigantic is the latest project from producer/saxophonist Dominic Lalli (Motet) and drummer Jeremy Salken. Showcasing an array of gripping composition by combining DJ elements with a live band setup. Mixing thoughtful melodic ideas with pulsating dance tunes, Big Gigantic flavors the electronic music scene with powerful sax solos and soulful synth lines on top of super hot beats. Their debut album, Fire It Up, combines hard-hitting dance beats and booming bass lines with lush electronic landscapes and unforgettable melodies. Visit www.biggigantic.net for more info and a free download of Fire It Up!
Miami Nightlife