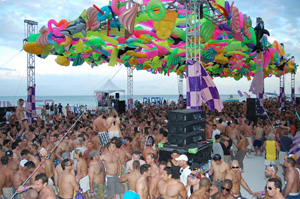 Get Ready to Ride the (Sound) Waves in Miami's Winter Wonderland: Winter Party Festival
Buy your Winter Party tickets and passes now and dive into Winter Party Festival's best lineup ever featuring world-famous DJ's at Miami and Miami Beach's hottest locations:
You will get more than just your feet wet as you kick your weekend off with Rip Current at Score Nightclub, featuring DJ's Roland Belmares (Los Angeles) and an opening set by Score's resident DJ Pride.
Go deeper into the musical journey on Friday night at Dolce on Ocean Drive, where father/son duo Hilton and Myron Wolman bring you Rising Tide with the powerful DJ duo Rosabel (Ralphi Rosario & Abel).
To get a glimpse of daylight, you'll want to surface at Saturday's Under One Sun Pool Party at the Host Hotel, the DoubleTree Surfcomber, featuring DJ's the Perry Twins (Los Angeles) and an opening set by local favorite, DJ Charlmix.
Stay in Miami Saturday night for Elevation and let the energy of international star DJ's Chus & Ceballos (Madrid) wash over you at Parkwest, with DJ Alexander (Los Angeles) spinning an opening set.
Want to ride a different wave on Saturday night? Dive into the Rough Waters of Fort Lauderdale's Sea Monster at Winter Party Festival's Official Leather Event with DJ Ted Eiel.
It's all building up to Sunday with our centerpiece event, the Winter Party Beach Party! "Brazilian Bombshell" DJ/Producer Ana Paula (Rio de Janeiro) headlines the event as she makes her Festival debut. DJ Brett Henrichsen gets everyone's favorite event started.
Sunday night's musical talent will take you out of this world at Winter Party Festival's only Official Sunday Night event, Orbit! Direct from the Space Terrace, DJ's Tracy Young and Winter Party Festival newcomer Boris will take your musical journey to all new heights as you dance in this indoor/outdoor club under the stars.
When all of the excitement is over, only the strong survive to experience Aftermath at Nocturnal on Monday morning with DJ's Alyson Calagna and Hector Fonseca.
Stay at the fabulous Shore Club Miami. Our host hotel, the DoubleTree Surfcomber is sold out! The Shore Club Miami has a limited number of rooms available for Winter Party guests at $295 per night if booked by January 30 and $345 after. South Beach hotels room are going fast – book your room today at 877.640.6500 or www.shoreclub.com. Use promo code 802187.
WPF 2010 YouTube contest! Tell us what Winter Party Festival means to you. Enter this fun contest at a chance for you to win tickets to this spectacular event. The Winter Party Festival website gives you more details. In the meantime, check out what we've put together in this fun video.
PARTY AT WINTER PARTY KICK-OFF EVENTS
Cities around the globe are helping us countdown to one of the LGBT community's biggest annual celebrations.
BEACH PARTY CABANA CLUB
Are you looking for a Beach Party experience that goes beyond VIP? Join our Beach Party Cabana Club. Among the privileges: open bar, nicely furnished lounge areas, private Beach Party entrance; luxury toilets, complimentary massages and more!