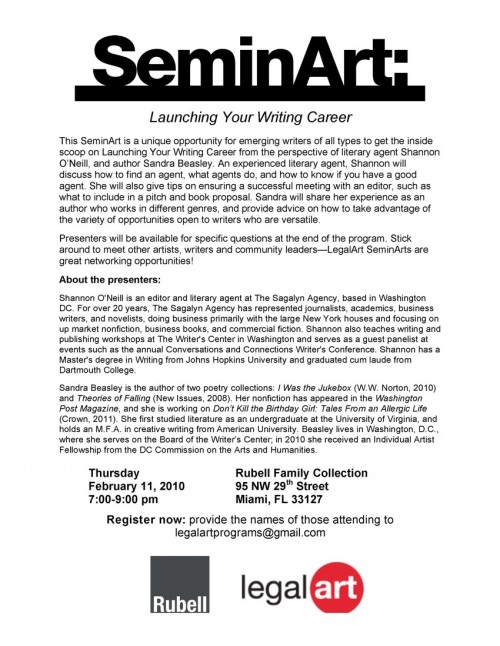 Launching Your Writing Career
CHANGE OF SUBJECT
Change of presenter and topic for tomorrow's SeminArt for writers. We are grateful to Marsha Sims, who will give the presentation "How to Market Your Book," in place of Sandra Beasley and Shannon O'Neill who can't travel from DC due to weather conditions to present "Launching Your Writing Career." Look out for announcements for "Launching Your Writing Career" rescheduled for May 20, 2010. We hope that you will join us tomorrow night for "How to Market Your Book!"
This SeminArt is a unique opportunity for emerging writers of all types to get the inside scoop on Launching Your Writing Career from the perspective of literary agent Shannon O'Neill, and author Sandra Beasley. An experienced literary agent, Shannon will discuss how to find an agent, what agents do, and how to know if you have a good agent. She will also give tips on ensuring a successful meeting with an editor, such as what to include in a pitch and book proposal. Sandra will share her experience as an author who works in different genres, and provide advice on how to take advantage of the variety of opportunities open to writers who are versatile.
Presenters will be available for specific questions at the end of the program. Stick around to meet other artists, writers and community leaders. LegalArt SeminArts are great networking opportunities!
About the presenters:
Shannon O'Neill is an editor and literary agent at The Sagalyn Agency, based in Washington DC. For over 20 years, The Sagalyn Agency has represented journalists, academics, business writers, and novelists, doing business primarily with the large New York houses and focusing on up market nonfiction, business books, and commercial fiction. Shannon also teaches writing and publishing workshops at The Writer's Center in Washington and serves as a guest panelist at events such as the annual Conversations and Connections Writer's Conference. Shannon has a Master's degree in Writing from Johns Hopkins University and graduated cum laude from Dartmouth College.
Sandra Beasley is the author of two poetry collections: I Was the Jukebox (W.W. Norton, 2010) and Theories of Falling (New Issues, 2008). Her nonfiction has appeared in the Washington Post Magazine, and she is working on Don't Kill the Birthday Girl: Tales From an Allergic Life (Crown, 2011). She first studied literature as an undergraduate at the University of Virginia, and holds an M.F.A. in creative writing from American University. Beasley lives in Washington, D.C., where she serves on the Board of the Writer's Center; in 2010 she received an Individual Artist Fellowship from the DC Commission on the Arts and Humanities.
Thursday Rubell Family Collection
February 11, 2010 95 NW 29th Street
7:00-9:00 pm Miami, FL 33127
Register now: provide the names of those attending to legalartprograms@gmail.com