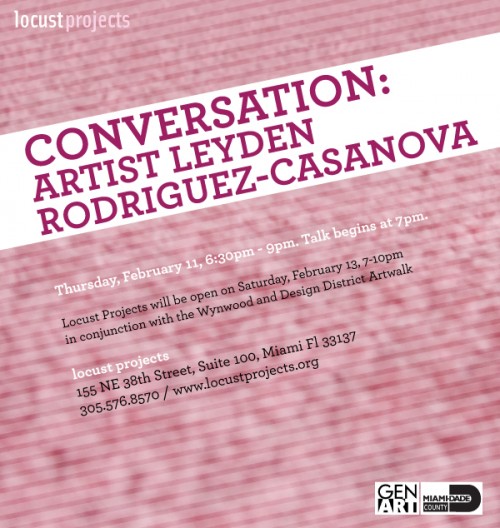 Conversation: Artist Leyden Rodriguez-Casanova Sponsored by Gen Art
Thursday, February 11
6:30pm – 9pm
Talk begins at 7pm
Locust Projects will be open on Saturday, February 13, 7-10pm in conjunction with the Wynwood and Design District Artwalk
This exhibition is made possible with the support from: Andy Warhol Foundation; Galt & Skye Mikesell; Hannibal Cox Jr. Foundation; Miami-Dade County Department of Cultural Affairs, the Cultural Affairs Council, the Mayor, and the Miami-Dade County Board of County Commissioners. Special thanks to Lin Lougheed and Galt & Skye Mikesell. Thanks to David Castillo Gallery; Linda & Irwin Adler; Stephen Bander; Joan Blackman & Anders Hoegh; Debra & Barry Frank; Rochelle & Steven Lanster; Liza & Dr. Arturo S. Mosquera; Vivian & Kenneth Pfeiffer; Debra & Dennis Scholl.