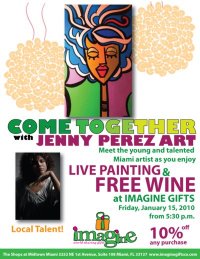 Imagine Gifts
Friday, January 15, 2010
5:30pm – 9:00pm
Imagine Gifts
3252 NE 1st Avenue Suite 108
Miami, FL
Meet the young and talented Miami artist and her colorful work. You'll have the pleasure of seeing her painting LIVE as you enjoy FREE WINE.
You'll also get 10% off any purchase during the exhibit.
Join us and support local talent!
***DONATIONS TO HELP HAITI ARE WELCOME THROUGHOUT THE EVENT***
**Items most needed: blankets, tents, batteries, candles, clothing, medicine and canned food**
Thank you for using Soul Of Miami!