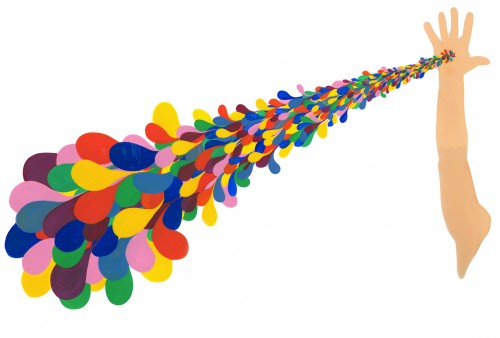 OPENING RECEPTION :
January 8th, 2009 : 6 – 9 pm
SECOND SATURDAY :
January 9th, 2007 : 7 – 10 pm
Somewhere between humor and magic lies the work of Charley Friedman. He has an undying interest in eliciting emotion in the viewer, not the quick response of shock but rather the kinds of emotions we remember from childhood; laughter, awe, suspense. Similar reactions are often experienced when looking at artwork. Through form and color artists create a sort of mysticism. Though it is a bit absurd this notion, the adoration of objects, it is comical, as Charley would say, a bit of "the emperors new clothes," it is also irresistible, seductive, and un-avoidable. In Magical Powers, Friedman is exploring wonder, how it is created, where it comes from and our responses to it. In this exhibition Friedman will exhibit three sculptural works, alongside an early example of his photography.
Magical Powers is the second solo exhibition of Friedman's work at Gallery Diet. The exhibition will be on view at 174 NW 23 Street Miami, FL 33127 from January 8th – February 6th, 2010 with an opening reception January 8th from 6 – 9 p.m.
Gallery Diet is open to the public Tuesday thru Saturday from 11 a.m. – 5 p.m., to schedule a private tour outside of regular business hours please contact info@gallerydiet.com
About Charley Friedman
For the last decade, Charley Friedman has been making work exploring the themes of personal identity and the relationship to one's body. His work primarily addresses the continuous, morphing response of the body to its particular environment and choices. The absurd, tragic, contradictory nature of living is able to be uniquely portrayed using humor as an psychological conduit, from multiple yet equal tangents. For Charley, it is the emotional "ah hah" that he desires over any formal qualities.
Charley wants viewers to feel before they think.
About Gallery Diet:
In addition to Friedman, Diet represents Brian Burkhardt, Richard Höglund, Abby Manock, and Daniel Milewski and exhibits their work alongside that of an invitational series. For additional information please visit www.gallerydiet.com
For more information about our upcoming shows please contact : info@gallerydiet.com