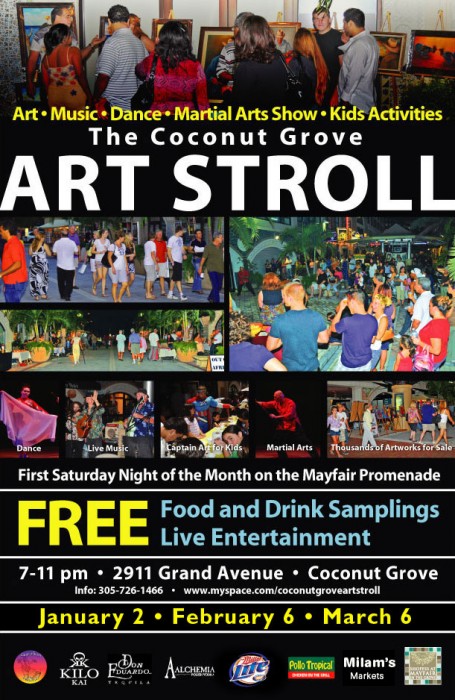 1st Saturday Coconut Grove Art Stroll on the Promenade at Mayfair
"Celebrates a Brand New Year"
Bringing Vibrant Activity and entertainment to Coconut Grove
On Saturday, January 2nd Coconut Grove Art Stroll Celebrate the New Year! By offering, a fabulous array of new artists, entertainers and much more. Over 40 local and international artists will participate. To enrich the experience, festivities will include live music by Martin Terry the one man orchestra; will make you dance to the rhythm of international music.
This free monthly cultural event founded by Johnny Valdes has proved to be an excellent way to spend a casual Saturday evening in the Grove.
Enjoy Free Food & beverage by some of Miami's most popular restaurants and sponsors including Coconut Grove's Milam's Grocery, Pollo Tropical, Don Eduardo Tequila, Aalchemia Vodka Products, Kilo Kia Rum and Miller Lite Beer.
In addition, Kids can enjoy creating and painting at the Children's Arts & Crafts area, which is taught by "Captain Art" the kid's number 1# Art Teacher.
Artist, Johnny Valdes, who is a Gallery Owner on the Promenade at Mayfair and also the founder of the Coconut Grove Art Stroll, says "This event has brought many new faces and visitors to Coconut Grove! The goal is to deliver an excellent show and also offer a free event for the whole family to enjoy. Also many of the local businesses have benefited from the economic impact this event brings every month to the area."
Some of the artists exhibiting works in the festival include Johnny Valdes, Proman Garcia, Manuel Menendes, Arien Lopez, Javier Martinez, Juan Vilacoba, Phyllis Hain, Beradette Denoux, Marlene Gasiba, Daisy Rodriguez, Jose Romero, Juan Fernandez and German Molina.
By presenting the Event flyer, one may enter the raffle to win a free 60" X 16" Miami skyline panoramic photo by Johnny.
When: Saturday, Jan 2nd 2010 – 7pm to 11pm
Where: Promenade at Mayfair – 2911 Grand Avenue, Coconut Grove 33133.
www.myspace.com/coconutgroveartstroll