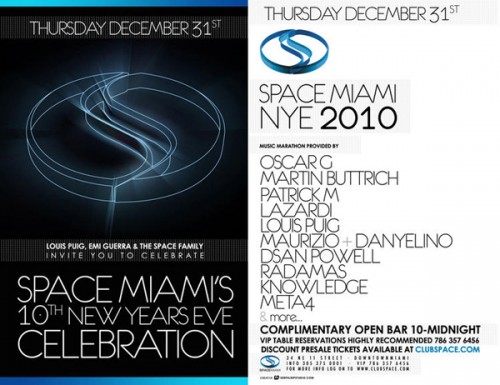 Space Miami is proud to celebrate their 10th New Year's Eve Celebration, Thursday, December 31st.
As its has become the tradition, we will present a stellar lineup of your favorite local DJ talent, with music by Oscar G, Patrick M, Louis Puig, Lazardi, Maurizio + Danyelino, Dsan Powell, Radamas, Knowledge and Meta4 all night (and morning!) long. As in other years and in keeping with our tradition of giving back to our loyal customers, this will be the least expensive pre-sale ticket in town, starting as low as $25.00 with Open Bar before 12am (Online Only)… It's is our of way of saying thanks for another year of your loyalty and support! As a last-minute addition to the madness, we are proud to welcome Germany's own Martin Buttrich for a true live performance in the Techno Loft. Ever the accomplished studio wizard, he's produced pop (The Sugarbabes), Italo house (Sounds of Life) and progressive (over one hundred collaborations with Timo Maas). He's even been nominated for a Grammy (remixing Tori Amos 'Don't Make Me Come to Vegas'). But it wasn't until 2006 that Buttrich came to prominence under his own name, releasing 12"s on Four:Twenty, Poker Flat and Carl Craig's Planet-E ('Full Clip'). As of late, Martin has been deep in the studio with fellow German and recent devastator of the Terrace, Loco Dice.
Patrons will also enjoy a complimentary open bar from 10 PM until the ball drops at midnight… Ring in the New Year in style as Space roars into it's tenth year of operation as the US's number one dance music club! Buy your tickets now! For Tickets or VIP Tables click below:
Click here to purchase tickets!