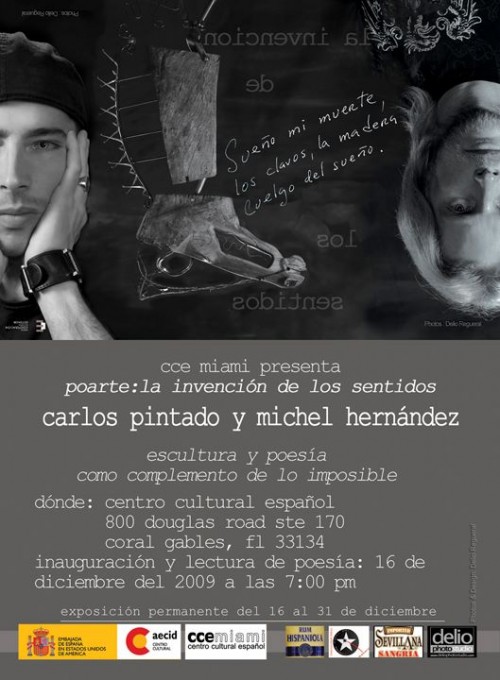 Wednesday, December 16 @ 7pm
POARTE
By Karlos Pintado & Michel Hernandez
Program to promote local creativity
At CCEMiami. Free Admission
On view till 12 l 31
Carlos Pintado is an Award-winning cuban poet and a writer. Author of El diablo en el Cuerpo, Los bosques de Mortefontaine, Habitación a oscuras,La Seducción del Minotauro. A collection of his poetry entitled Los Nombres de la Noche was published by Bluebird editions. In 2006, Carlos Pintado was awarded The Sant Jordi International prize for poetry in Spainfor his book Autorretrato en azul. In 2008 his book El azar y los tesoros was one the twelve finalists for Spain's oldest and prestigious poetry prizes ADONAIS, and will be published in Buenos Aires, Argentina. His poetry and short-stories have been published in literary journals and anthologies from various countries and languages. The South Beach Music Ensemble and Boston Composer Pamela Marshall have created a Piano Quintet based of his poems that can be seen in different cities in United States. Pintado has also been an invited author for the Miami International Book Fair. He's currently the editor of the literary magazine La Zorra y El Cuervo and resides in Miami.
Michel Hernández. Actor and Sculptor. He has studied at Instituto Superior de Arte ISA and ISA Acting Workshop directed by Miriam Isada. Michel Hernández has also participated in several theatrical plays such as Petición de Mano de Anton Chekov, Teatro El Puente, Cuentas Pendientes de Alberto Sarrain, La Ma' Teodora. Miami. (2002) Parece Blanca de Alberto Sarrain. Cuba – Miami, Metamorfosis with director Victor Varela and Palabras Encadenadas with Eloy Ganuza.
For more info click here
info@ccemiami.org / www.ccemiami.org
CCEMiami | 800 S Douglas Rd. | Suite 170 | Coral Gables | FL | 33134