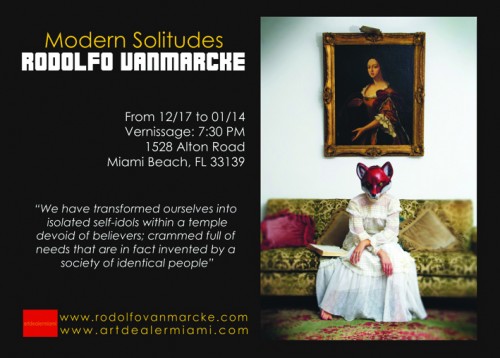 ArtDecoMiami 1528 Alton Road, Miami Beach, Fl 33139
Date: from 12/17/09 to 01/14/10
This coming thursday, December 17th, the venezuelan artist Rodolfo Vanmarcke will be presenting his series "Modern Solitudes", showing a selection of 18 photographs in different formats. This exhibition is organized by ArtDealerMiami, in the gallery ArtDecoMiami (Miami Beach, FL).
Vanmarcke is pleased to announce that this will be his first solo exhibition in United States; although he has exhibited several times in group exhibitions in the city of Miami, and has also received from the judges the "Best in Show" award in the "XII Salon of Latin American and the Caribbean Art" (Broward College gallery).
"Modern Solitudes" reflects the artist vision towards the contemporary society, by stating that "The contemporary human being has buried himself in a devastating solitude due to the triumph of industrialization. We have systematically celebrated the mass manufacture of products that are elaborated under the slogan "Our greatest product is the human capital". Ironically, that same resource is already a prefabricated product, properly packed with the in vogue clothing, the technology of the moment and under the media diet of the day. We have transformed ourselves into isolated self-idols within a temple devoid of believers; crammed full of needs that are in fact invented by a society of identical people.
We are convinced of being completely free. Universally, there hasn't been a time with greater liberty than the actual one: a tremendous range to be chosen is presented as a fold-out menu; nevertheless there has not been a better moment than today to celebrate our sameness. But is not an equality based on ethical values, but an equality based on the depersonalization and the absolute self-exile.
"Modern Solitudes" begins and ends with this condition."