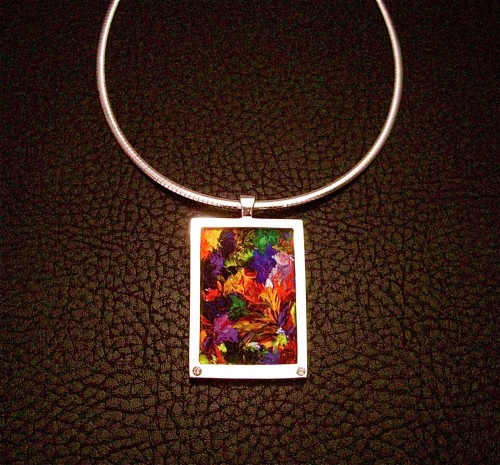 I N V I T A T I O N
"Acrylic Paintings & Jewelry Collection"
Meet her: SWISS Artist Monique Wegmueller !
ART & DESIGN NIGHT – Saturday, December 12th. 2009, 7-10pm
Coordinated Paintings & Jewelry – Art by MONIQUE WEGMUELLER:
Precision work is nothing new in Switzerland, but the combination of a painted artwork for your wall with a beautiful and unique 925-Sterling Silver Necklaces is…
You can exchange your inserted mini-painting on canvas in the frame that matches the colors of your outfit for work or leisure.
Two real SWAROVSKI crystals are decorating the front of the frame.
And open the rear part of the frame with the signature in silver of the artist.
Monique created this new concept and got immediately full copyright for her idea.
A very special and affordable gift for any occasion. Monique Wegmueller.
Meet this particular artist personally, this Saturday Night in our gallery.
Please visit our all actualized website: www.CityLoftArt.com
AND … you will have a great night with light, music, nice stores, gastronomy at it's best –
see what's new in style and get ideas for your home. PARK, WALK, TALK and enjoy the
European style pedestrians and side walks, in addition to an amazing festive ambiance…
Appreciate our exhibition: "ACRYLART", a world of transparent custom furniture and sculptures.
Come and see yourself how we translate and show LIGHT meets COLOR, subtly transported
by our media: Resin, Enamel, Laquer, Glass, Acrylic, Polycarbonate and even Water(-Jets).
And enjoy our beautiful live piano music entertainment with well known pianist Domingo Aragu.
– Be very welcome ! –
Hans-Jürgen R. Klemm
Opening hours of the Gallery Mon. thru Sat. 10:30 am to 5:00 pm or by private appointment
CityLoftArt / European Art Gallery, Inc. – 61, NE 40th Street – Miami, Fl.33137 – Tel. 305 438 9006
www.CityLoftArt.com / www.euartgallerymiami.com