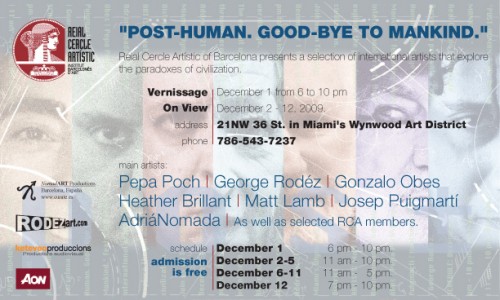 AN ART EXHIBITION FOR ALL MANKIND.
Reial Cercle Artistic of Barcelona closes its art exhibit in Miami's Wynwood Art District during Wynwood Gallery Night, Saturday, December 12. We hope that if you were not able to make it during Art Basel or if you came on opening night and it was too crowded to appreciate the artwork, you join us this Saturday from 7 to 10 p.m.
The artists on exhibit will be Pepa Poch (Spain), Matt Lamb (USA), Gonzalo Obes (Spain), Josep Puigmarti (Spain), AdriaNomada (Cuba/Spain), Heather Brillant (UK), and George Rodez (USA/Cuba).
This exhibit also marks the debut of Rodez' Dream Series in the United States. After four unforgattable exhibitions throughout Spain since 2005, including three this year, Post-Human. Good-bye to Mankind will showcase 8 of those works.