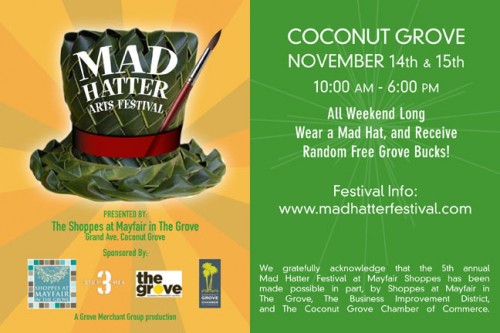 The Mad Hatter Festival 2009
. . . A place where "Genius is Insanity Usefully Applied" – Lewis Carrol
The Fifth Annual Mad Hatter Festival is at Mayfair Shoppes, Grand Avenue, Coconut Grove
Come journey in a wonderland of over 50 local and emerging artists.
All day music, Grove merchant specials and Grove Bucks
will be handed out to anyone wearing a "Mad" Hat!
Immediately following the festival on Saturday night is the perennial favorite,
the COMMODORE BLOCK PARTY, produced by our Sponsor, the Grove BID (Business Improvement District)
for more information on the MAD HATTER FESTIVAL
go to www.madhatterfestival.com.