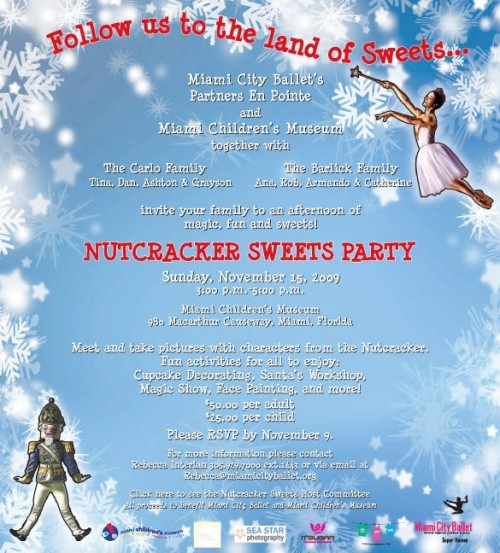 Nutcracker Sweets Party — November 15, 2009
Follow us to the land of Sweets!
Miami City Ballet's Partners En Pointe and Miami Children's Museum together with The Carlo Family (Tina, Dan, Ashton & Grayson) and The Barlick Family (Ana, Rob, Armando & Catherine)
invite your family to an afternoon of magic, fun and sweets!
Sunday, November 15
3:00 p.m. – 5:00 p.m.
Miami Children's Museum (980) Macarthur Causeway, Miami)
Meet and take picture with characters from The Nutcracker.
Fun activities for all to enjoy: Cupcake Decorating, Santa's Workshop, Magic Show, Face Painting, and more!
$50.00 per adult
$25.00 per child
Please R.S.V.P. by November 9.
For more information please contact Rebecca Interial
305.929.7000 ext. 1443 or via e-mail at rebecca@miamicityballet.org
All proceeds to benefit Miami City Ballet and Miami Children's Museum
More Info.