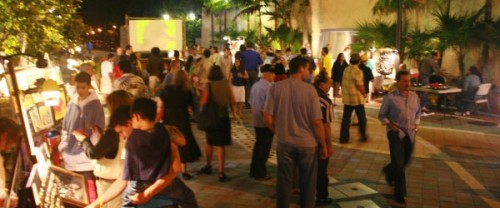 FREE this Friday: Art, Music and Cuisine at Calle Ocho
Miami's Best Arts and Music Festival on the last Friday of every month
Friday, October 30th, 2009. From 6:30 – 11:00 p.m.
SW 8th Street (Calle Ocho) between 13th and 17th Avenues
SCHEDULE OF EVENTS
7:00 p.m – 7:45 p.m. – Free History Walking Tour of Little Havana led by Dr. Paul George. (Meet in front of Tower Theater)
7:30 – 10:30 p.m. – Pamir Guanchez. (Corner of SW 8th St and 16th Avenue)
10:00 – 11:00 p.m. – Alexis y su Sabor Habanero. (Domino Plaza SW 8th St and 15th Avenue)
Free History Walking Tour of Little Havana led by Dr. Paul George (7:00 – 7:45 p.m.)
Dr. Paul George will guide you through Little Havana, pointing out the significance of South Florida bungalow architecture, the Tower Theater, old-fashioned hand rollers at a cigar factory and more. Visit Cuban Memorial Boulevard and observe the monuments that speak to the exile presence in Miami. The tour features architectural details, cultural history and other interesting tidbits from the mind of South Florida's most respected historian. October's walking tour is sponsored by the generous donation of the Latin Quarter Cultural Center of Miami.
Pamir Guanchez (7:30 – 10:30 p.m.)
Pamir Guanchez, a native son of Venezuela received his formal training in music at the conservatory of music in Caracas. He traveled extensively throughout the world, as part of Oscar D' Leon orchestra, for whom he has played for over 15 years. He currently accompanies Tito Puente Jr. in his shows around the USA. Some of the highlights of Pamir's musical journey include performing in the world famous Carnegie Hall and Madison Square Garden. This Viernes Culturales the audience will be hypnotized and dazzled by the rising star that is pursuing his long awaited solo career. Pamir's flute and saxophone talent is at his peak and he hopes to express his passion for music in his upcoming productions.
Alexis y su Sabor Habanero (10:00 – 11:00 p.m.)
Sabor Habanero was established in New Jersey in February 2003 by its current director Alexis Llerena with the collaboration of talented Cuban musicians. Soon, the band became known in the community for their work and good music. The group is composed of great musicians and their musical structure consists of two trombones, a trumpet, three singers, congas, timbales, bongo, bass and piano. Sabor Habanero is characterized by a continuity of Cuban music while respecting the parameters of son. In their songs you can appreciate the training of their musicians bringing the traditional Cuban son with contemporary arrangements.
Cremata Gallery
"Cardo ni ortiga cultivo … " the one-man show by Cuban artist Pepe Herrera presented at Cremata Gallery, is his "opera prima" in our city. He arrives preceded by his recent and very successful participation in two major exhibitions in Spain: "Entre rías…" reviewed extensively in El Nuevo Herald (July13th, 2009), inaugurated in the very center of Madrid's art triangle next to the Prado Museum, and "La isla expandida" showcased at Huelva's Museum of Art. Pepe Herrera is a master twice over: he enjoys international recognition as an outstanding figure of the celebrated 1980s Cuban generation, and at the same time, he is one of the best serigraphers of our time. His move to Barcelona 20 years ago and later to Madrid helped him become a major player in the European market. In his previous visit, he launched the first of a series of serigraphs of master Cundo B ermúdez carried out by him, edited by Cremata Gallery. Let this exhibition, full of mystery and subtlety, fill you with wonder as it explores an imaginary garden.
1646 SW 8th Street. Miami, FL 33135. Ph: 305.644.3315 Email: cremata@crematagallery.com. Website: www.crematagallery.com
The Latin Quarter Cultural Center
The Latin Quarter Cultural Center presents a photography exhibition by Aurelio Miranda-Sousa, starting October 30th, 2009 at the Viernes Culturales Gallery located at 742 SW 16th Avenue. Miami, FL 33135. Free and open to the public. For information call 305.643.5500
Viernes Culturales / Cultural Fridays, Inc.
742 SW 16th Avenue
Miami, FL 33135
Ph: 305.643.5500
Fax: 786.999.8894
info@viernesculturales.org
www.viernesculturales.org