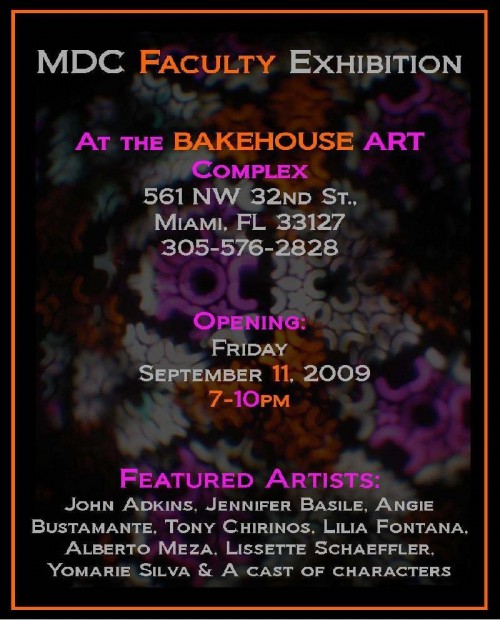 Join us for our First Opening Reception of the Season!
Opening Reception, Friday September 11th,
7-10pm @ Bakehouse Art Complex
561 NW 32nd Street
Wynwood Arts District
BAC Main Gallery:
The Miami Dade College Kendall Campus Art Department is proud to present a group exhibition of 19 full and part-time art faculty. Their works encompass a variety of mediums and include the following disciplines: Painting, Printmaking, Sculpture, Jewelry, Ceramics, Mixed Media, Photography and Video. As artists with national and international reputations, their works have been featured in major galleries in Miami, New York, Seattle, Atlanta, Chicago, Japan & Denmark. Exhibition on view until October 1st.
Miami Dade College is the largest institution in American, servicing over 160,000 students annually. The Kendall Campus Art Department offers course work in the following disciplines: Art History, Humanities, Cinema Appreciation, Computer Art, 2D and 3D Design, Painting, Drawing, Figure Drawing, Printmaking, Black & White and Color Photography, Ceramics, Sculpture, Jewelry and Small Metals. It offers premier studio work spaces, designed especially for an established art program. More information can be found at http://www.mdc.edu/kendall/artandphilosophy/.
Bakehouse Art Complex Artists 2009: Pastels
The second installment of this series focuses solely on the medium of pastels. BAC artists will present their work on a variety of topics and styles.
On view: September 11 – October 1
www.bacfl.org