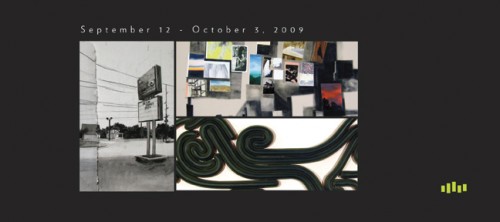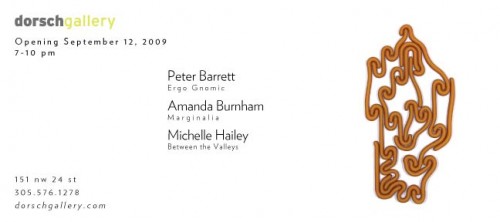 Dorsch Gallery is pleased to present three solo shows September 12, 2009, 5-10pm: Peter Barrett: Ergo Gnomic, Amanda Burnham: Marginalia, Michelle Hailey: Between the Valleys. Please join us to kick off the season!
On September 12, pick up/drop off pedicab service will be provided from gallery to gallery in the Wynwood Arts District during the art walk. Drivers will wear a pink t-shirt with the Wynwood logo. This service is sponsored by Intown/Ocean View Rickshaws. September 12th will be a testrun of the venture's possible success – so be sure to use them!
Upcoming shows at the gallery are, in October: Jenny Brillhart: New Works, Richard Haden: Venting, John Sanchez: Recorded Eyesight. In December: Robert Ransom Thiele: Three Decades.
Elisabeth Condon's work is included in the Southern Edition no. 82 of New American Paintings, curated by Ron Platt of the Alabama Museum of Art. She also has paintings in the Girls' Club exhibition Under the Influence, on view through September 2009 and With You I Want to Live at the Fort Lauderdale Museum, through October 12th, 2009.
Franklin Einspruch's review of "Prendergast in Italy," an exhibition at Williams College Museum of Art in Williamstown, MA, appears in the September issue of the New Criterion. His "Heywood's Brook," which interprets a passage of Thoreau's journal as a two-page comic, will appear in September in the #4 issue of Inbound, the anthology of the Boston Comics Roundtable.
Mark Koven has work in the "University of North Carolina Asheville Faculty Exhibition" at the Tucker S. Gallery located in Asheville, NC and "Sculpture 2009: The North Carolina Sculpture Consortium" at the Wellington B. Gray Gallery located in Greenville, NC.
Martin Murphy's work is in "Night Shift" at Hudson Guild Gallery through October 4, 2009. Hours: Tues-Fri 10-7, Sat 1-4. 441 W 26 St., NY, NY.
Mette Tommerup's work is on display at MAM's Recent Acquisitions show, on view through October 11, 2009. Miamiartmuseum.org
Kyle Trowbridge has work in NewPRINTS at Unversity of Dallas's Haggerty Art Village in Irving, TX. Sept 9-30, 2009.
And there was a review of the "Importance of Daydreams" by Janet Batet in El Nuevo Herald on August 14, 2009. The show was curated by Tyler Emerson-Dorsch at World Class Boxing. http://www.elnuevoherald.com/galeria/artes/story/519503.html. A translated version will be available at dorschgallery.com soon.