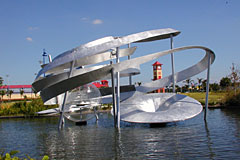 Opening Wednesday:
Natural Forces: Broward County Public Art & Design '06 – '09
Opening reception: Wed., Sept. 9, 6-9 pm
This exhibition focuses on recently completed public art projects by national and internationally known artists. The Art and Culture Center of Hollywood will exhibit working drawings, models, and other preparatory works, thus revealing important aspects of the creative process, as well as how these large scale art pieces are intended to interface with the public.
Art and Culture Center of Hollywood
1650 Harrison St.
Hollywood, FL 33020
954. 921. 3274
ArtAndCultureCenter.org
Thank you for using Soul Of Miami!