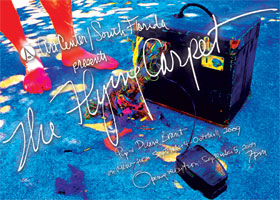 The Flying Carpet
Pip & Duane Brant
Opening night on Saturday, September 5 from 7:00 p.m. to 10:00 p.m. coincides with the Lincoln Road art walk
Pip Brant's carpet is comprised of a found oriental rug, embroidery, silkscreen, brass ornaments, wood, car parts, electric motor, laser-light and rheostat controllers. The rug first entered Pip's life in the early 1980s in Wyoming. The many adventures of Pip's carpet were just taking shape when she had an epiphany: she would create an impotent "flying carpet" that only shakes and lights-up when foot pedals are engaged.
Duane's installation pieces are dubbed "Sew Organs' or interactive acoustical sound machines. In addition to the flying carpet, ArtCetner's audience will be invited to play with these instruments that combine vintange sewing machines with shellacked, wooden acoustic forms that are electronically connecte to organs, cellos or old radios.
The show will run from September 4th – Ocotober 11th, 2009 at the ArtCenter/ South Florida's Lincoln Road Gallery.