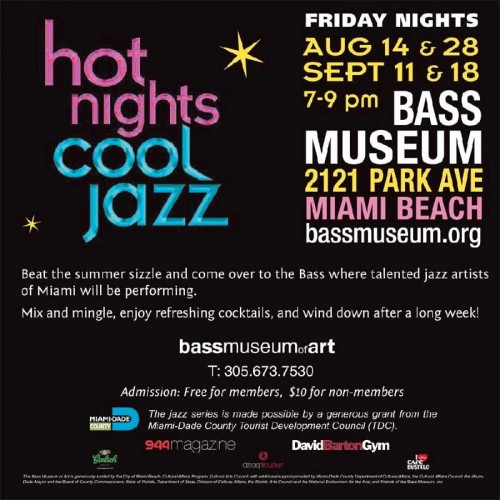 HOT NIGHTS COOL JAZZ at the Bass Museum of Art
THIS FRIDAY AUG 28, 7-9PM
Dave Fernandez Quartet
Free for members; $10 for non-members
Bass Museum of Art
2121 Park Avenue (in Collins Park)
Miami Beach, Florida 33139
T: 305.673.7530 www.bassmuseum.org
After the event head to The Martini Bar for the swankiest happy hour at the Raleigh.
Two-for-One drink specials. Guests receive VIP access to select local night clubs. Every Friday 10pm-1am.
The Raleigh Hotel
1775 Collins Avenue
Miami Beach, FL 33139
www.raleighhotel.com
The Bass Museum of Art is generously funded by the City of Miami Beach, Cultural Affairs Program, Cultural Arts Council; with additional support provided by Miami-Dade County Department of Cultural Affairs, the Cultural Affairs Council, the Miami-Dade Mayor and the Board of County Commissioners; State of Florida, Department of State, Division of Cultural Affairs, the Florida Arts Council and the National Endowment for the Arts; and Friends of the Bass Museum, Inc.