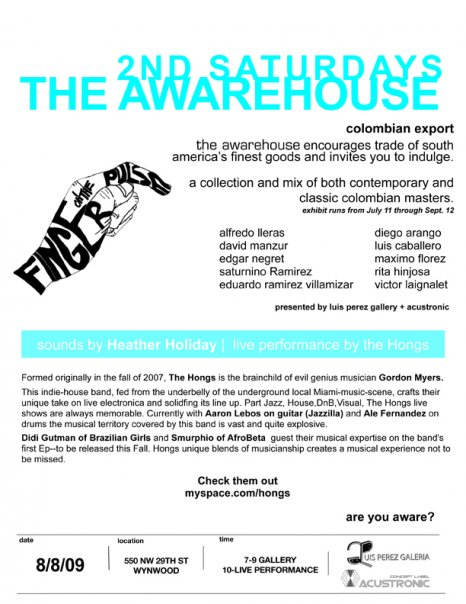 The Luis Perez Galeria and Acustronic present: Colombian Export
The Awarehouse encourages trade of South America's finest goods and invites you to indulge
A collection and mix both of contemporary and classic Colombian masters.
Sounds by: Heather Holiday
Live performance by: THE HONGS
The Awarehouse
550 nw 29 st., Miami, FL
Facebook RSVP
Formed originally in Fall 2007, The Hongs is the brainchild of evil genius musician Gordon Myers
This indie-house band, fed from the underbelly of the underground Miami-music-scene, crafts their unique take on live electronica and solidifying its line-up. Part Jazz, House, DnB, Visual, The Hongs live shows are always memorable. Currently with Aaron Lebos on guitar (Jazzilla) and Ale Fernandez on drums, the musical territory covered by this band vast and quite extensive.
Didi Gutman of Brazilian Girls and Smurphio of Afrobeta guest their musical expertise on the band's first EP–to be released this Fall. Hongs unique blends of musicianship creates a musical experience not to be missed.
myspace.com/hongs
18+ welcomed
Complimentary Red Stripe beer (must be 21 with valid i.d)
7-9 gallery
10-live performance
http://www.theluisperezgaleria.com
http://www.acustronic.com
Thank you for using Soul Of Miami!