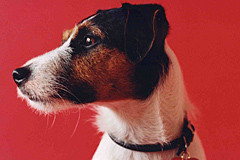 The Tillamook Cheddar Mid-Career Retrospective 1999-2009
Opening reception: Friday, June 19, 6 – 9 pm
Exhibition runs through Aug. 16, 2009
Tillamook Cheddar is a 10-year-old Jack Russell Terrier who is widely regarded as the world's preeminent canine artist. "Tillie" has shown in 19 solo exhibitions and 15 group exhibitions, as well as numerous benefit exhibitions in the United States and Europe. She uses a dynamic color transfer technique to create her work.
"The most successful living animal painter."
-The Art Newspaper
"A masterpiece of conceptualism."
-Time Out New York
Click here for more information.
Image above by Dirk Westphal
The 08/09 visual arts season is supported by Francie Bishop Good and David Horvitz; and the John C. Graves Charitable Fund.