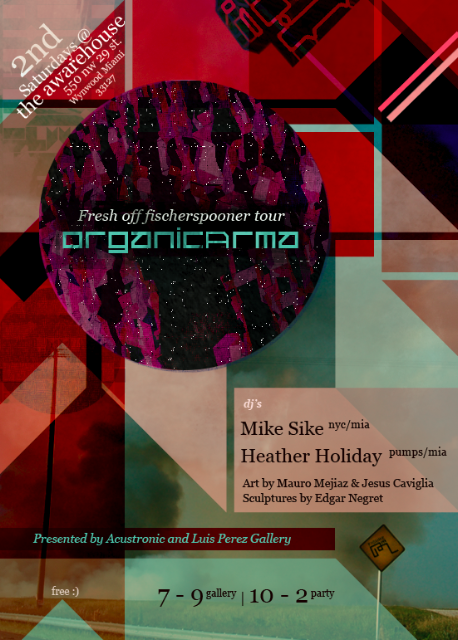 Luis Perez Galeria & Acustronic invite you to experience a night surrounded by fine art, music, and contemporary culture.
Join us every second Saturday during the monthly Wynwood Artwalk.
Featured Exhibition: Mauro Mejiaz, Jesus Caviglia, Edgra Negret
DJ Set – Mike Sike and Heather Holiday
Live Performances – Organicarma
550 NE 29th Street Miami Florida
Fresh off the Fischerspooner tour organicArma- Miami's own electronic band and MSN "New Artist of the Month" for July, comes home to perform live this Saturday, June 13th during the Wynwood Art Walk.
The trio toured with art electro-pop duo- Fischerspooner along with art-punk collective Ssion. The band has come back with a bundle of amazing experiences and musical inspirations. And they all want YOU to celebrate it with them.
Starting off the party portion of the evening…
Mike Sike brings his own NYC rooted beats with a mix of Miami's spices.
Heather Holiday keeps everyone happy with her swagger and Pumpin jams.
And always presenting the best in Fine Art, The Luis Perez Gallery introduces artwork by
Venezuelan constructivist- Jesus Caviglia, Mauro Mejiaz and scultpures by Edgar Negret.
This Saturday's art walk event is not to be missed!
18+ welcomed.
Free event.
The Awarehouse
550 NW 29 ST Miami, FL 33127
www.acustronic.com | www.organicarma.com | www.luisperezgaleria.com