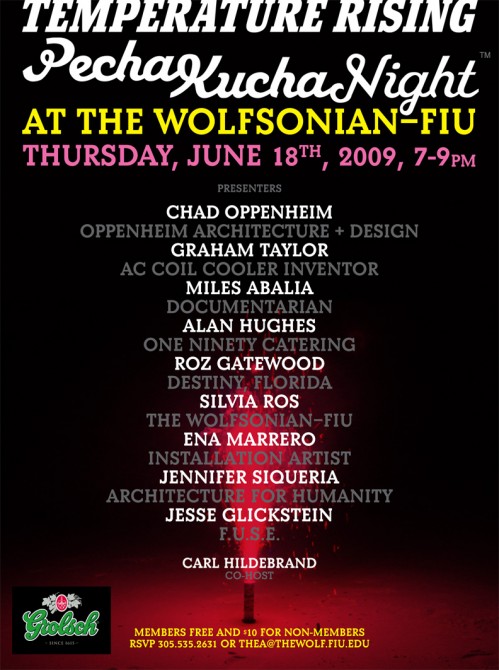 Pecha Kucha Night at The Wolfsonian-FIU: June 18, 2009
1001 Washington Avenue
Miami Beach, Florida 33139
T 305.531.1001 F 305.531.2133
wolfsonian.org
Debuting in Miami during Art Basel in 2006, this is the first time a Pecha Kucha night will be held at the Wolfsonian-FIU. This high-energy showcase of ideas started in Japan in 2003. Run by Carl Hildebrand, Director of Green Building Initiatives at Metro 1 Properties in Wynwood, the event's theme will be Temperature Rising. Although the Pecha Kucha Night will not take place until Thursday evening June 18th from 7-9PM, the deadline for submissions is May 1st—Hildebrand says that is flexible.
Temperature Rising is open to interpretation. The only limit is one's imagination. Presenters run the range of a local photographer capturing weather turbulence between high and low pressure systems, to inventor who improves air conditioner efficiency in a salt air environments, to a chef who's taking the heat in the kitchen out into youth detention centers and a architecture group putting humanity and social responsibility into areas stricken with political crisis—in fact any topic that has the element of heat, temperature, stress, or crisis is acceptable.
The concept is that each presenter is allowed 20 images in a power point presentation that is shown for 20 second each– giving 6 minutes and 40 seconds of fame before the next presenter is up. This keeps presentations concise, interest level up and gives the opportunity for more people to express their ideas. Once all the submissions are in Hildebrand, along with the staff at the Wolfsonian-FIU will select the final eight to ten people who will do their Power Point presentations.
Hildebrand says that these evenings are so important because they get people talking, listening and promoting lively exchanges of ideas. "There are 8 to 10 people presenting and more than 100 listening," he says. And then the conversations begin, a lost art he believes with everyone emailing and texting. "These evenings get people involved in their community and away from their computers and cell phones; it's so not Twitter," he says.