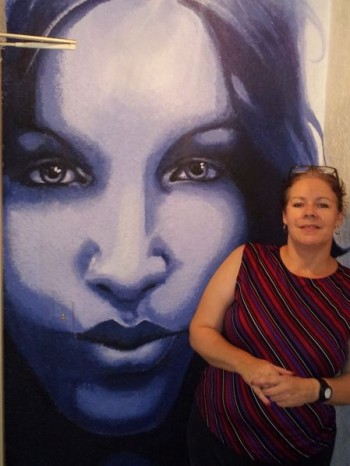 Artist Monique Lassooij
By Tatiana Enriquez
Get to know local artist Monique Lassooij: an artist with a sharp sense of humor and unwavering passion for her community!
Jimi Hendrix once said "When the power of love overcomes the love of power the world will know peace". Local Artist Monique Lassooij injects us with her passion for art and reminds us of the importance of giving back to our community. We are truly lucky she decided to hop on over to our side of the pond!
More about Monique Lassooij:
Monique Lassooij was born and raised in The Netherlands and moved to Miami, Florida as an adult. In The Netherlands Ms. Lassooij started out as an abstract painter but over the years she developed a passion for figurative painting. After having studied with Dutch artists such as Pien Hazenberg and Henk Hubenet, she attended the Royal Academy for Fine Arts in The Hague and went on to receive several commissions for public places such as the Town Hall of the city of Scheveningen in The Netherlands. Her paintings hang in numerous private collections in the US and abroad as well. Ms. Lassooij says she finds her inspiration in colors and how those colors affect the subject whether she is painting on canvas, wood or a wall. Her subjects are often not placed within a context-giving background, allowing a single or combination of colors and geometric shapes to illuminate the chosen topic.
She is also very active in community programs within the Magic City. She says, "I like to participate in projects that are relatively small and direct like I do now with "Art that Feeds" from Touching Miami with Love. This is a project where artists create their art on a plate, which then gets to be auctioned off or sold and the proceeds go to feed children in the city of  Overtown. Each plate will provide a meal for at least 35 children. (for more information check out https://www.facebook.com/artthatfeedsTML) or http://www.touchingmiamiwithlove.org/. She also painted doors for the "Revolving Doors Project" which focuses on homeless children and youth and especially the LGBTQ (Lesbian, Gay, Bisexual, Transgender, Queer) population. She says she is especially interested in this cause because these individuals have an even harder time than most on the streets since many "facilities will not open their doors for them.  Don't forget that homeless children/youth are at a super high risk to fall in the hands of sex traffickers and other criminals."  She also participated with them in a project where she helped "a great young man" create his door.
Last year, Monique  was invited by fellow artist Mano and his wife Cuqui to participate with Easter Seals South Florida, where she donated one of her paintings from the series "DOGS".  Her "Blue Chihuahua" went to a very happy new owner and helped raise money for the cause.  She recalls, "…then I received a wonderful picture from the new owner of his chihuahua in front of the painting. That was really a cherry on top of it all! I think that is what I like about donating or creating pieces for a good cause… when you see a happy new owner of your piece, it feels great… and the thought that whenever a plate I made is sold at least 35 children in Overtown have a good meal, which helps them to perform better in school. Or when volunteers are able to save a dog / cat from euthanasia and get a new home because of a painting I donated… yep, that is truly a biggie for me!"
She is passionate about her city and the art within it and feels that in order to help it continue to grow  "[we should] not compare Miami with San Francisco or New York.  The Culture, the people, the history, the demographics are so different that it does not make sense at all to me. Lets be proud of our own Miami Art Identity and build from there. [Also], Miami Art goes a lot further than the flamingos and palm trees that some people outside of Miami think it is all about here. The galleries, museums and the local government should be more aware and cultivate local talent. Ask yourself: How weird is it if a Miami museum would not have local artists in their collection?"
How does Monique view our local art scene? She says "I love it! It is very diverse and colorful. It is a relatively new and a rapid developing art scene. I like how artists here are supportive of other artists. There is also a lot of collaboration going on and people here are not afraid of going outside their comfort zone. Look at the Good Wall on Calle Ocho: dozens of artists creating this wonderful display of local art and not everyone on that wall is a muralist.  On the other hand… no scene without their 'haters and scammers'. 'Haters' for me is not a bad sign but an indication that I am doing something right. You can meet people who do a lot of talking but basically are after free art or the artists' money. It might not be typical for the Miami art scene but it is something that I really noticed here. My personal experience however, is that the majority of people in the Miami art scene are good people and looking out for each other. I am proud to be part of it."
Her advice to new artists on the scene is "work, work, work: realize that being an artist is hard work. It is not only creating but also marketing, sales, public relations… oh, you are a business. Go around and see what other artists in the community are doing. Meet artists, gallery owners, the shakers and the movers of the art scene in Miami. Learn from them, don't be afraid to ask questions, have business cards and hand them out (yes, you paid for them, but not to sit on them). Be your own worst critic, keep dead lines, and be on time at venues where you are showing. It sounds obvious but not so much here."
So, what next for Monique?! She says "I am currently working on the series 'Proprietary Innocence' (aka my disturbed children) and hopefully later this year it will be going in one or two shows (in and outside of Miami) but not yet 100% confirmed. I am also working on a large panel for the Sincerity Project that will be shown in June 2014 in Studio 18 in Pembroke Pines curated by Jill Slaughter.And of course, I will be starting the painting classes soon together with Eleazar Delgado at the McCormick Place in Downtown Miami"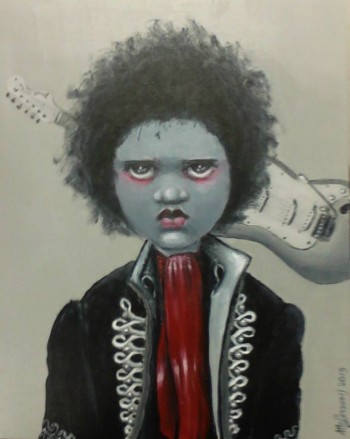 "Little Jimi" Copyright Monique lassooij Art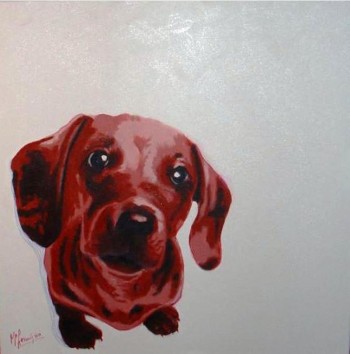 Copyright Monique Lassooij Art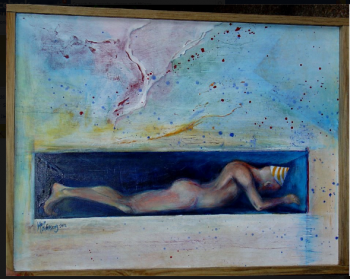 Copyright Monique Lassooij Art
Exhibitons:
April 6 thru 27, 2013: All Drawing and Sketchbook Show – Blu Moon Studio of Art, Coconut Grove, FL
February 18, 2013 thru February 15 2014: ITTY BITTY KITTY SHOW, http://arterpillar.blogspot.com/
December 15, 2012 thru February 15, 2013: RED – MANO Fine Art Project Space, Miami, FL
December 8-9, 2012: Art Basel Pop-up – The Creatures of the Night, Gallery Delight – The Station, Miami, FL
October 18, 2012: Meet Venus and Mo (presentation and opening of 2 murals) – LoF Center, Coral Gables, FL
September 19 thru 30, 2012: Yo MOMMA in the House – 12345 West Dixie Studio and Gallery, Miami, FL
August 11 – September 07, 2012: Wynwood Art Walk – B M de Varona Studio. Miami FL
July 14 – September 1, 2012: Earth Angels Outreach – The GAB Studio, Miami, FL
December 1 thru 5, 2011: Seventeen – The Gallery at Cortada Studio, Miami, FL
December 3, 2011: Art Zoo – Finnegan's River, Miami, FL
October 24 thru November 18, 2011: Darkness – Rossetti Fine Art Gallery, Pompano Beach FL
October 15 thru November 12, 2011: Out of Context – Galerie Jenner, Fort Lauderdale, FL
September 17 thru November 8, 2011: Mona…Mona…Mona…An Ode to the Mona Lisa – MANO Fine Art Project Space, Miami, FL
July 1 thru 31, 2011: Art of T-Shirt – Sol Gallery CANDO Arts CO-OP, Miami Beach, FL
April 2 & 3, 2011: Spring for the Arts – Galleria, Ft Lauderdale, FL
February 23, 2011: River of Art – Bar 721, South Beach, FL
February 11 thru April 11, 2011: Cheesecake Pinup Show – Galerie Jenner, Ft Lauderdale, FL
December 11, 2010: Pop-up at the Art Center South Florida, South Beach, FL
November 26, 2010: White Party Weekend – The Bookstore in the Grove, Coconut Grove, FL
July 3 thru August 10, 2010: Words & Symbols – Windish-Hunt Fine Art Gallery, Coconut Grove, FL
April 14, 2010: 5 Minutes of Fame – Museum of Contemporary Art, North Miami, FL
February 6 thru February 28, 2010: Circus Circus – Windisch-Hunt Fine Art Gallery, Coconut Grove, FL
August 8, 2009: Fresh from the Fridge – Solo exposition Focaccia Rustica, Coconut Grove, FL
June 6, 2009: Summer Salon – Windisch-Hunt Fine Art Gallery, Coconut Grove, FL
 Follow Monique Lassooij at:
https://www.facebook.com/moniquelassooijart
http://lassooij-fine-art.blogspot.com/
Thank you for using Soul Of Miami!