Saks Fifth Avenue Father's Day Fundraiser for St. Jude Children's Research Hospital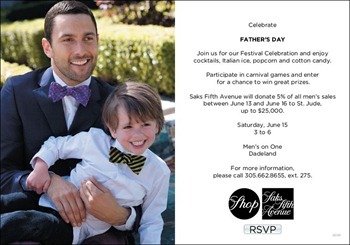 Thursday, June 13 to Saturday, June 16
Saks Fifth Avenue Dadeland
7687 North Kendall Drive
Miami, FL 33156
Saks Fifth Avenue celebrates Father's Day each year with a special initiative aimed at providing customers with gift options perfect for dad. In 2013, Saks is showcasing the small items, such as lapel accents, watches, socks, fragrance, laces, bowties and jewelry, that customers can give to dads for Father's Day to transform and rejuvenate their wardrobes.
As Saks focuses on the little things that can make a big difference in fashion, it too is focusing on the "little things" that make the biggest difference in a Father's life—his children—by hosting a charitable shopping event in partnership with St. Jude. Saks Fifth Avenue will donate 5% of all men's purchases between Thursday, June 13 and Sunday, June 16 up to $25,000 to St. Jude Children's Research Hospital to benefit research.
"The Saks Fifth Avenue Father's Day Event pays tribute to the little things that make a big difference in our community: our children," says Thomas Ott, SVP GMM Menswear, Home, Food & Gifts. "We proudly support St. Jude Children's Research Hospital. With any men's purchase, customers will have the opportunity to give their fathers a gorgeous gift from Saks and a donation towards children's health."
The initiative will be supported with a special series of in-store events, special visual statements, advertisements, and a catalog and gift guide for customers. Attached is a gift guide featuring Saks' favorite "Little Things" for Father's Day.