#SeaTweetup Bon Voyage Tweetup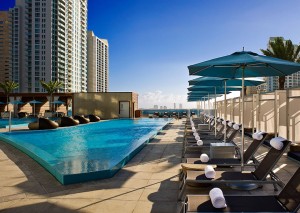 Thursday, October 11
NOTE NEW TIME
7:30pm – 10:00pm
EPIC- A Kimpton Hotel
270 Biscayne Boulevard Way, 16th Floor
Miami, FL 33131
RSVP on Facebook
DUE TO PRESIDENT OBAMA'S VISIT, WE ARE MOVING THE TIME TO 7:30PM-10PM
Join us for a "Bon Voyage Tweetup" at the EPIC Hotel, located in downtown Miami.
The Tweetup will be held in a private section of the hotel's 16th floor pool deck where guests will enjoy breathtaking views of the city, plus:
* Foursquare check-in offers for Area 31 restaurant and Exhale Mind Body Spa
* Reduced valet parking
* WiFi access
* Complimentary cocktails sponsored by Bacardi and MillerCoors
* Lite bites from Area 31
The event is open to local social media lovers, who are invited to mix and mingle with the group.
For cruisers who are planning to stay in Miami before or after the cruise, between October 8 and October 16, 2012, EPIC Miami is offering a 20% discount on room rates when #SeaTweetup attendees book using code: TWEET. Reservations may be made online at www.epichotel.com or by calling 866 760.3742.
Follow us @SeaTweetup and tweet with #SeaTweetup
Reserve your spot at www.seatweetup.com
Thanks to our sponsors:
@CruiseNorwegian
@Bacardi
@MillerCoors
@KimptonInFL
@VisitTheBahamas
@MDGadvertising
#SeaTweetup committee members:
Kristine McGlinchey – @CruiseNorwegian @K_McGlinchey
Marisa Scime – @CruiseNorwegian @MarisaScime
Rich Tucker – @CruiseDeals @RichTucker
James Echols – @SoulofMiami
Annette Peikert – @thepumagirl
Jeff Cohen – @iamJeffCohen @MDGadvertising
Sebastian Rusk – @sebrusk @SocialBuzzTV
Rochelle Gapere – @roriffic @SocialEsquire
Aubrey Swanson – @AubreySwanson @AUBOOMMedia