Wine tasting and Networking Event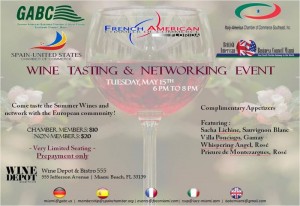 Tuesday May 15, 2012 from 6:00 PM to 8:00 PM
Wine depot & Bistro 555
555 Jefferson avenue
Miami Beach, FL 33139
On Tuesday 15th of May , from 6 to 8 pm. Wine Depot & Bistro 555 will host the Chambers' Wine tasting and networking Event.
Limited Seating
Registration and Prepayment Mandatory
Register Online
Members: $10
Non Members: $20
Different types of prestigious Summer wines will be offered to our guests.
You will be allowed to participate Only Through Online Prepayment
Limited Seating of 20 guests per Chamber.
Thank you for using Soul Of Miami!