SoBe Arts I'll Be Bach on Sleepless Night MB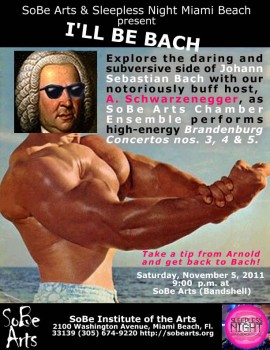 Saturday, November 5 · 9:00pm – 11:00pm
SoBe Institute of the Arts (SoBe Arts)
2100 Washington Avenue
Miami Beach, FL
"I'LL BE BACH"
SoBe Arts Chamber Ensemble
Your host; A. Schwarzenegger
for Sleepless Night, Miami Beach 2011
Performed on the 21st St. Band Shell on the SoBe Arts Campus
Free & Open to the General Public
Explore the daring and subversive side of Johann Sebastian Bach with our notoriously buff host, A. Schwarzenegger, as the SoBe Arts Chamber Ensemble performs high-energy Brandenburg Concertos.
In 1721, Bach presented the Margrave of Brandenburg with a bound manuscript containing six pumped-up compositions for chamber orchestra. The Margrave never thanked Bach for his work or paid him, but the Brandenburg Concertos still blow away the competition almost three centuries later! Unlike our host, Bach's poundage still packs power!
• The program lifts off with concerto #3, familiar to us from its use in Clockwork Orange and Die Hard.
• The harpsichord cadenza in the first movement of concerto #5 sounds like some crazy improvisation from a rock band. This part, first performed by Bach himself, was heard on The American President, episodes of The X-Files and still dazzles audiences with its virtuosity and precision.
• Lastly you will hear Wachet auf, ruft uns die Stimme, Cantata No. 140, also known as SLEEPERS AWAKE! This Cantata, used in Mr Holland's Opus, arranged for strings and harpsichord contains such joy and sheer beauty it must be heard to be believed.
Thank you for using Soul Of Miami!