A Modern Tradition
Atrio Restaurant & Wine Room Presents Thanksgiving
25 Stories in the Sky or To Go in the Comfort of Home
Presenting a modern take on a cherished tradition, new Executive Chef Jonathan McCann has extended his forte of taking traditional elements of good old comfort food and turning them stylish to Thanksgiving Day. Offering all the trimmings with none of the clean up, Atrio Restaurant & Wine Room invites you to indulge in an exceptional 3-course Thanksgiving Day menu, available amid Atrio's spectacular 25th floor setting or to-go to enjoy in the comfort of your own home.
Thanksgiving classics such as Spice Brined Roast Turkey, Cornbread Stuffing, Pan Gravy and Sweet Cranberry Confit are offered alongside enticing alternatives such as Baked Cod, Slow Roast Heirloom Tomatoes, Roast Corn and Garlic Spaghetti Squash. Traditional holiday ingredients are also enhanced to create dishes such as Pumpkin Risotto, Cinnamon Caramelized Apples and Roast Chestnuts and Pumpkin Gingerbread Trifle.
The Wine Room


Atrio Restaurant & Wine Room
Atrio Dining Room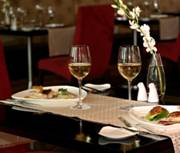 For those looking to indulge in the comfort of their own home, a special TO GO Thanksgiving Turkey dinner will also be available with the same menu, as well as a whole turkey, perfect for sharing in the privacy of your home with friends and family. The TO GO Thanksgiving Turkey dinner is for six people and is priced at $250.00. Final orders must be made a minimum of 5 days in advance before Thanksgiving Day.
Diners can enjoy the 3-course Thanksgiving Day menu complete with a special holiday-themed dessert buffet within Atrio's contemporary setting for an exceptional $37.00 per person, exclusive of tax and gratuity. Reservations are available from 12:00 p.m. – 8:00 p.m. on Thursday, November 26, Thanksgiving Day. The Thanksgiving menu is as follows:
New England Clam Chowder
Dried cranberries, fig and brussel leaf salad with
candied walnuts, Pancetta and parmesan crisps
Pumpkin risotto, cinnamon caramelized apples and roast chestnuts
Spice brined Roast Turkey, cornbread stuffing, pan gravy
Sweet cranberry confit
Maple glazed sweet potatoes
Green beans
Braised red cabbage
Baked cod, slow roast heirloom tomatoes,
Roast corn and garlic spaghetti squash butter crushed sage fingerlings
Butternut squash lasagna, ricotta, sage, hazelnuts
Autumn leaf salad
Chocolate pecan pie, Jack Daniels ice cream
Pumpkin gingerbread trifle
Apple crisp, ginger custard
For a more intimate or large holiday affair, The Room, a private event space overlooking the stunning Biscayne Bay, or The Wine Room, a unique private wine tasting room, are available as well.
Atrio Restaurant & Wine Room is situated on Level 25 at the Conrad Miami, located at 1395 Brickell Avenue in the vibrant Brickell Avenue District. The 3-course Thanksgiving menu is priced at $37.00 per person and includes a dessert buffet. The TO GO Thanksgiving Turkey dinner for six people is priced at $250.00. Final orders must be made a minimum of 5 days in advance. Prices do not include tax and gratuity. The regular lunch and dinner menus will not be available on Thanksgiving Day. Reservations are strongly suggested by calling 305.503.6529 and are available from 12:00 p.m. – 8:00 p.m. on Thursday, November 26.
About Conrad Miami
Decidedly modern, boldly conceived and beautifully designed, Conrad Miami creates a unique sensory experience for its guests. The 203 guest rooms and 103 residence suites were stylishly created with the sophisticated traveler in mind, combining some of the finest services with high-tech facilities. As the newly launched dining and entertainment milieu, Level 25 elevates the senses, the stunning vista of Biscayne Bay and the city of Miami unfolds below.
About Conrad Hotels & Resorts
CONRAD® HOTELS & RESORTS is Hilton Worldwide's global contemporary luxury brand, offering a seamless intersection of life, business and pleasure for today's sophisticated traveler. Each Conrad hotel is a dynamic reflection of its city and culture, as well as a showcase for striking design and distinct surroundings. With hotels & resorts across 6 continents, the world's gateway cities and most sought-after resort destinations, Conrad invites each guest to enjoy the personalized service and business savvy that truly delivers The Luxury of Being Yourself®. For further information on Conrad please visit www.conradhotels.com.